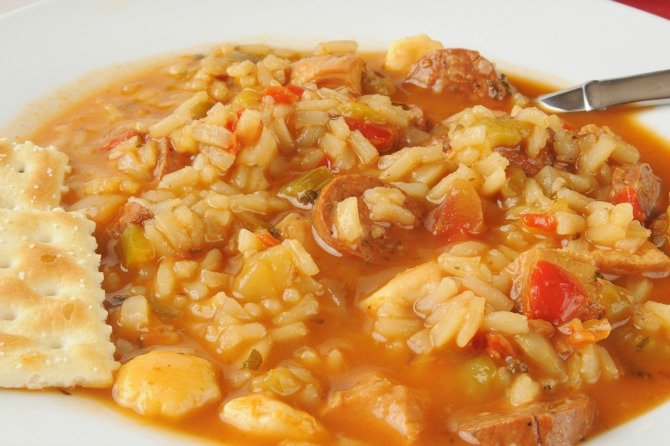 INGREDIENTS:
1 gallon of seafood or chicken stock
1/2 cup diced green onion
1/2 cup diced celery
1/2 cup diced yellow onion
1/2 cup diced green pepper
1 tablespoon minced garlic
1 cup all-purpose flour (for the roux)
1 cup of butter or olive oil (for the roux)
salt to taste
Cayenne and black pepper to taste
Dark roux (made from the butter/olive oil and flour)
bay leaves
dry thyme
hot sauce, white wine, lemon juice, Worcester sauce to taste
cut okra (frozen is okay)
medium-sized can of tomato fillets
small can of tomato paste
sliced Andouille sausage
diced raw or cooked chicken
small peeled and de-veined shrimp
dried fish (catfish preferred)
claw crab meat
file gumbo (ground sassafras root)
*Please note: This recipe follows a traditional means of cooking  – it's all based on taste – meaning that not all ingredients or spices are measured exactly.
*Its suggested to make the roux a day before the stock and veggie/meat portion of this recipe.
Making the roux: The roux is best done by weight. Equal parts of butter and olive oil to flour. This recipe calls for 1 pound of each, but that amount can be scaled down – just keep in mind – it must remain equal parts. Heat the oil/butter to a very high temperature; while stirring, add the flour. Lower the heat and continue stirring constantly until the roux is the color of chocolate. It will also take on a nutty smell. If it has any burnt flecks, it was either cooked at too high a temperature or wasn't stirred enough. You must throw it out and start over. Once the roux is finished, you can save any unused portion in the freezer for your next batch of gumbo.
Preparation: In a stock pot, add the stock and all seasonings and vegetables (except the okra and file/sassafras). Stirring often, bring the stock to a simmer. Slowly add the roux until the gumbo reaches your desired consistency. Lower the heat, add the meat and seafood. When meat and seafood are cooked through, add the okra and a small amount of file. Adjust seasonings to taste.
Serving Suggestion: Serve over rice.
Chef's Tip: Cool the entire pot in ice water in the sink and slowly warm it the next day so the flavors marry.
This recipe was provided by local chef, Gary Beach.