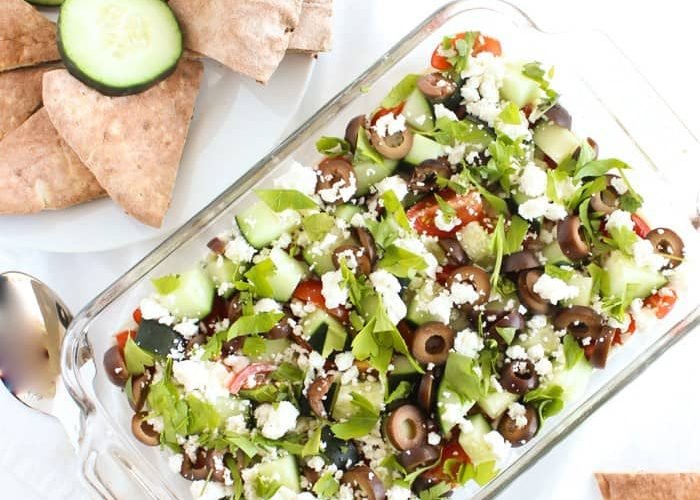 Nutrition Facts
Yield: 8
Calories: 210
Fat: 9g
Saturated Fat: 2g
Cholesterol: 10mg
Protein: 10g
Carbohydrates: 26g
Fiber: 5g
Sodium: 450mg
Ingredients
2 cups hummus (I like garlic or roasted red pepper)
2 cups nonfat plain greek yogurt
2 teaspoons fresh dill (chopped, or 1 tsp dried)
1 lemon
1 pint grape tomatoes (quartered)
1 cucumber (diced, about 1 cup)
1/2 cups kalamata (or black, pitted and sliced)
1/2 cups feta cheese crumbles
1/4 cups fresh parsley (chopped)
1 package pita bread (your favorite Toufayan, I used Organic Sprouted Whole Wheat and Garlic flavors)
Directions
Spread hummus in the bottom of a 13X9″ or similar sized serving dish.
In a small bowl, stir together yogurt, lemon juice, and dill. Spread yogurt mixture evenly over hummus.
Layer tomatoes, cucumbers, olives, feta, and parsley over yogurt mixture. Refrigerate until ready to serve.
Just before serving, toast pita bread. Heat oven to 350° F. Place pitas on a baking sheet and heat for 5-10 minutes, or until warmed through. If you prefer your pitas more crispy, heat at 400° F. for 5-10 minutes. Remove pitas from oven and slice into wedges. Serve alongside dip.