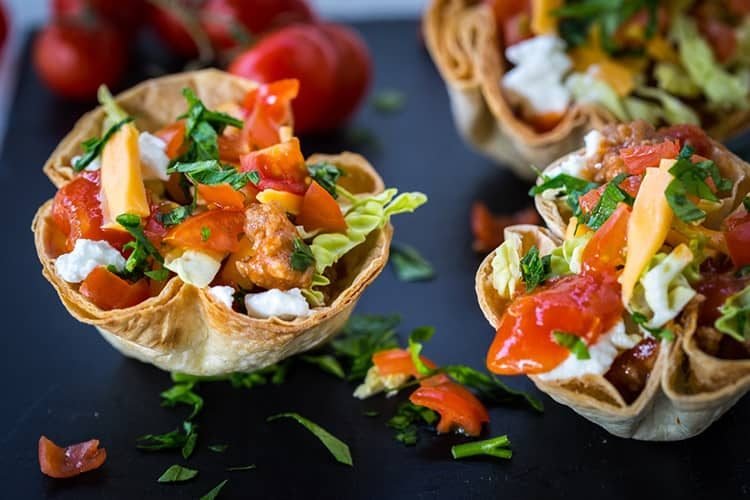 Nutrition Facts
Yield: 6
Calories: 200
Fat: 12g
Saturated Fat: 4.5g
Cholesterol: 70mg
Protein: 17g
Carbohydrates: 4g
Fiber: 1g
Sodium: 440mg
Ingredients
1 tablespoon olive oil
1/8 teaspoons garlic powder
2 teaspoons chili powder (divided)
2 teaspoons cumin (divided)
4 whole tortillas (grain)
1 pound lean ground turkey
1/4 teaspoons sea salt (or kosher)
1/4 teaspoons black pepper
1/2 cups water
3/4 cups salsa (no added sugar)
1 1/2 cups shredded lettuce
1/2 cups shredded cheddar cheese (reduced-fat)
1/2 cups greek yogurt (fat-free, optional, sour cream)
Directions
Preheat oven to 325 degrees.
Whisk together oil, garlic powder, 1 teaspoon each chili powder and cumin.
Cut three 4-inch rounds out of each tortilla. Brush each side of the rounds with the oil mixture.
Place each tortilla into a 12-cup muffin tin, pressing on the bottoms and sides to form mini bowls. Bake 20 minutes or until golden. Allow to cool in tins. Once cooled, remove and set aside.
In a large skillet over medium-high heat, cook the ground turkey, breaking up with a fork as it cooks. Once the turkey is cooked through and there's no more pink, drain any fat. Add to the cooked meat the remaining chili powder, cumin, salt, black pepper, and water, stirring to combine. Continue cooking just until most of the water is absorbed. Add 1/4 cup salsa and stir to combine.
Evenly divide the cooked turkey in the mini bowls, top each with the remaining salsa, lettuce, cheese, and Greek yogurt. Enjoy!
Optional toppings: black or green olive slices, freshly chopped cilantro, diced avocado, or diced tomatoes.