Grilled Pulled Pork Barbecue Sandwich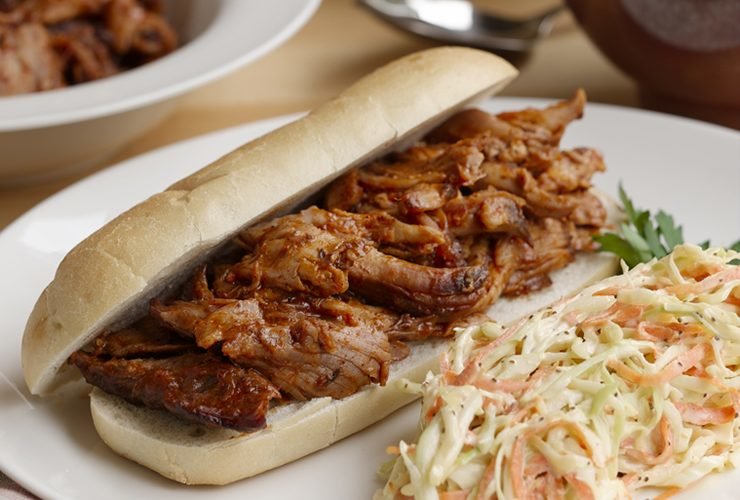 Nutrition Facts
Yield: Makes 8 Servings
Ingredients
6 lb pork butt
1 tbsp salt
1 tsp ground black pepper
1 cup Vinegar Barbecue Sauce (recipe follows)
1 cup Black Jack Barbecue Sauce (recipe follows)
8 sandwich buns, split and toasted
Directions
Preheat a gas grill to medium-low; leave one burner off. If you are using a charcoal grill, build a fire and let it burn down until the coals are glowing red with a heavy coating of white ash. Spread the coals in an even bed on one side of the grill. Clean the cooking grate.
Season the pork butt with salt and pepper. Grill, covered, over indirect heat, turning every 15 to 20 minutes, until the meat is completely cooked and very tender, 2 1/2 to 3 hours. Baste the pork with the Vinegar Barbecue Sauce (recipe follows) as necessary to keep the meat moistened.
Remove the pork from the grill and allow it to cool slightly. When cool enough to handle, pull the pork into shreds. (This can be done up to 2 days in advance.)
Combine the pulled pork with the Black Jack Barbecue Sauce (recipe follows) in a saucepan over medium-low heat. Heat, stirring gently, until the meat is very hot, about 10 minutes. Serve on the toasted buns with the Coleslaw.