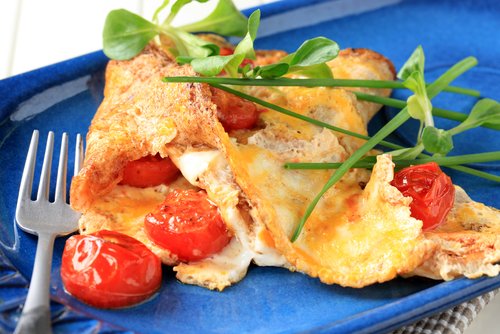 INGREDIENTS:
3 T. cooking oil
8 eggs, well beaten
1 c. shredded mozzarella cheese
2 plum tomatoes, sliced
1 T. fresh oregano, chopped (approx. 3 sprigs)
1 T. fresh tarragon, chopped (approx. 3 sprigs)
2 T. basil coarsely cut
1/2 c. tomato sauce (to which 1/2 c. cooked zucchini and 2 T. chopped sautéed onion has been added)
Heat 2 tablespoons cooking oil in skillet, medium heat. Pour in half the eggs. Add cheese and distribute tomato slices over cheese. Sprinkle half of each of the 3 herbs. Gently pour remainder of the eggs. Distribute by spoonful, the tomato sauce on top. Sprinkle remainder of herbs on top. Watch pan constantly, shaking and lifting edges to let mixture run under edges until omelet is set. Broil 1 minute. Slide omelet onto heated plate, cut into wedges to serve. Garnish with lots of fresh basil leaves.
Vicki Barrett is the innkeeper and owner of the Inn on the Ocean in Ocean City, MD. She published a cookbook a few years ago. It is titled Everything New Under the Sun and is available for purchase at the Inn, 1001 Atlantic Avenue, on the boardwalk.