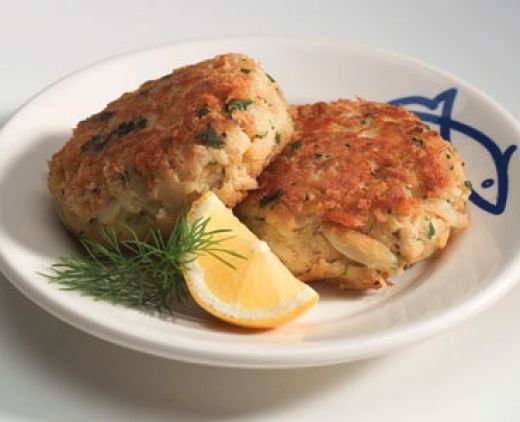 INGREDIENTS:
1½ sticks butter
2 T. flour
1 T. dry mustard
1 tsp. Worcestershire sauce
1 tsp. Old Bay seasoning
⅛ tsp. cayenne pepper
½ tsp. salt
1 c. half-and-half
2 beaten eggs
¼ c. chopped parsley
1 c. fresh bread crumbs
2 T. lemon juice
1 lb. lump crab
1 c. dried bread crumbs
Recipe serves 8.
Melt butter in a large skillet. Add flour and cook 2 minutes. Add mustard, Worcestershire, Old Bay, cayenne pepper, and salt. Add half-and-half. Stir until thickened.
Remove from heat and stir in beaten eggs. Add parsley, bread crumbs, and lemon juice. Mix. Carefully stir in crab. Form into 8 crab cakes; dust both sides with bread crumbs.
Refrigerate before cooking. Broil or sauté in butter until lightly browned.
Recipe note: These crab cakes are very moist.
Vicki Barrett is the innkeeper and owner of the Inn on the Ocean in Ocean City, MD. She published a cookbook a few years ago. It is titled Everything New Under the Sun and is available for purchase at the Inn, 1001 Atlantic Avenue, on the boardwalk.