Pear & Bacon Grilled Cheese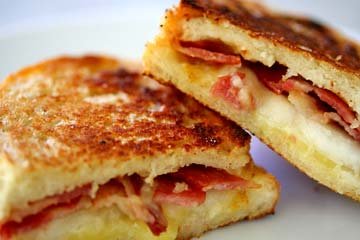 INGREDIENTS:
2 Tablespoons unsalted butter
2 Slices cheddar cheese
2 Slices white bread
2 Tablespoons currant or fig jam
2 Slices cooked bacon
1/4 thinly sliced pear
Melt unsalted butter in a skillet over medium-low heat. Spread jam on 1 slice of the bread. Form a sandwich with cheddar cheese and white bread, adding bacon and pear between slices. Cook, covered, 2 to 3 minutes per side, until the bread is toasted and the cheese is melted.
Recipe from Real Simple Magazine.