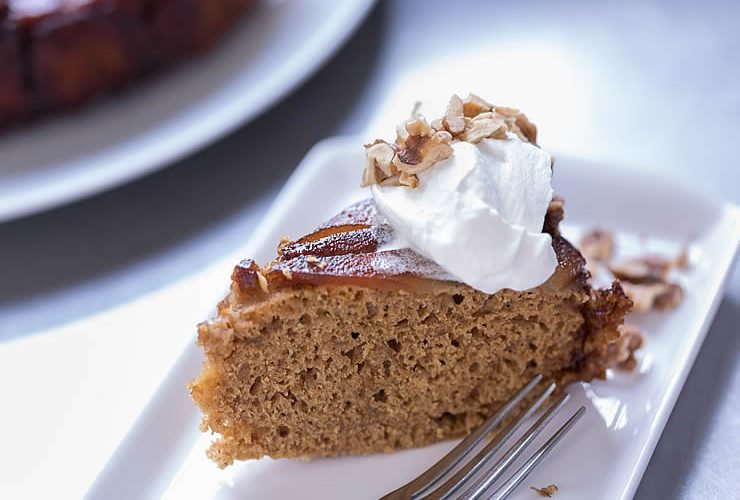 Nutrition Facts
Yield: Makes 12 servings
Ingredients
2 cups cake flour
2 1/4 tsp baking powder
1/2 tsp baking soda
1/2 tsp salt
1 1/2 tsp ground ginger
1 tsp ground cinnamon
1/4 tsp ground nutmeg
1/4 tsp ground mace
1/4 tsp ground allspice
2 Bartlett pears, peeled and cored
2 egg yolks
1/4 cup molasses
1/3 cup honey
1/4 cup hot water
3 egg whites
2 tbsp butter
1/2 cup light brown sugar
2 cups walnut halves, toasted
Directions
Preheat a gas grill to medium-high, leaving one burner off. If you are using a charcoal grill, build a fire and let it burn down until the coals are glowing red with a light coating of white ash. Spread the coals in an even bed on one side of the grill. Clean the cooking grate.
Sift together the flour, baking powder, baking soda, salt, ginger, cinnamon, nutmeg, mace, and allspice into a medium-sized bowl. Set aside.
Grate one of the pears. In a small bowl, combine the grated pear, egg yolks, molasses, and honey, and stir until blended. Add the hot water and stir until the honey and molasses are evenly blended. Stir the wet ingredients into the dry ingredients.
In a large bowl, whip the egg whites until stiff peaks form. Fold the egg whites into the batter.
Melt the butter in a 10-inch cast-iron skillet on the grill over direct heat. Add the brown sugar and cook until it darkens slightly, about 5 minutes. Remove from heat. Thinly slice the remaining pear. Arrange the pear slices in the skillet in a spiral shape.
Pour the batter over the pears in the skillet and place the pan on the grill over indirect heat. Close the lid, and bake until the cake springs back when lightly touched, about 20 minutes.
Let the cake cool for 10 minutes and then turn out onto a cake plate. Garnish with the walnuts and serve.