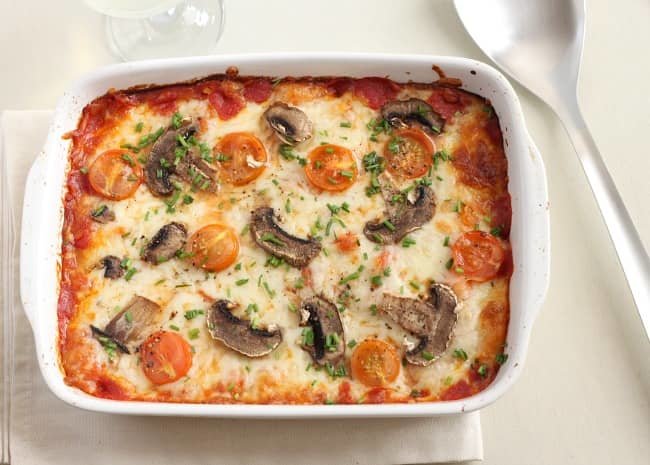 Nutrition Facts
Yield: 2
Calories: 630
Fat: 19g
Saturated Fat: 8g
Cholesterol: 45mg
Protein: 23g
Carbohydrates: 93g
Fiber: 5g
Sodium: 1720mg
Ingredients
1 tablespoon oil
3 cloves garlic (minced)
1/2 onions (sliced or diced)
1/2 teaspoon dried thyme
250 grams tomato passata
2 tablespoons tomatoes (purée)
150 milliliters vegetable stock
black pepper
500 grams gnocchi
150 grams mozzarella cheese (grated)
sliced mushrooms
cherry tomatoes
pizza toppings
fresh herbs (for serving, I used chives, but basil or parsley would work well too)
Directions
Preheat the oven to 200°C (Gas Mark 6 / 400°F).
Heat the oil in a large saucepan, and cook the garlic and onion over a medium-low heat for a few minutes, until soft. Add the dried herbs, passata, tomato purée, stock and plenty of black pepper, and bring to a simmer. Add the gnocchi, and cook for a few minutes.
Transfer the gnocchi and sauce to a baking dish measuring around 8 x 6 inches. Top with plenty of grated mozzarella, and then add your pizza toppings. Add a bit more black pepper if desired. Bake for 20-25 minutes, until the cheese is melty and slightly browned.
Serve topped with plenty of fresh chives.