Red, White, and Blue Potato Salad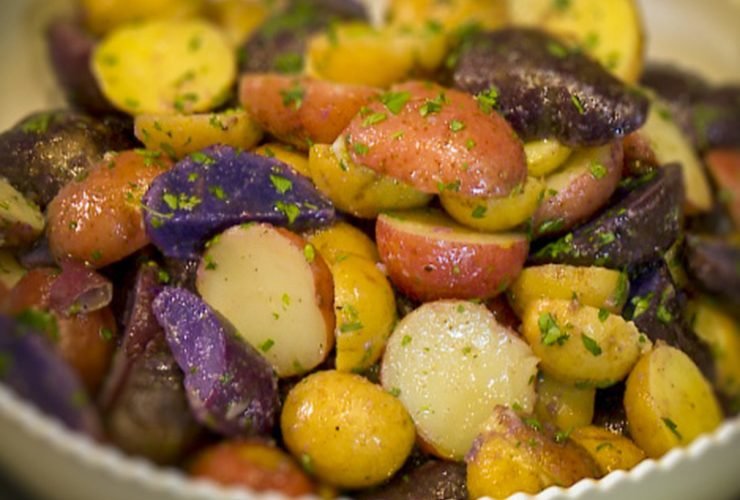 Nutrition Facts
Yield: Makes 10 Servings
Dress up your potatoes by "tattooing" them. This recipe can be made with one, two, or three colors of small potatoes.
Ingredients
1 pound small red-skinned potatoes
1 pound small white potatoes
1 pound small blue or purple potatoes
Kosher salt, as needed
1/2 cup olive oil
2 tablespoons Dijon mustard, or as needed
3 tablespoons white wine vinegar
1 teaspoon garlic, finely chopped
Ground black pepper, as needed
1/2 cup green onions
1/3 cup chopped flat-leaf parsley
Directions
Scrub the potatoes well, leaving the skins intact. Cook in simmering salted water until they are tender enough to pierce with a skewer or the tip of a paring knife, about 10 to 15 minutes, depending on the size of the potatoes.
For the dressing: Whisk together oil, mustard, vinegar, garlic, salt, and pepper. Set aside.
Drain the potatoes and return them to the pot. Place the pot over low heat and let the potatoes dry, shaking the pan frequently, until the steam has been driven off the potatoes. Transfer them to a shallow dish or pan and let them cool.
Cut the cooled potatoes in half and transfer to a large bowl. Add green onions, parsley, and dressing. Toss gently to coat.
Season with salt and pepper to taste.