Slow Cooker Chicken Cacciatore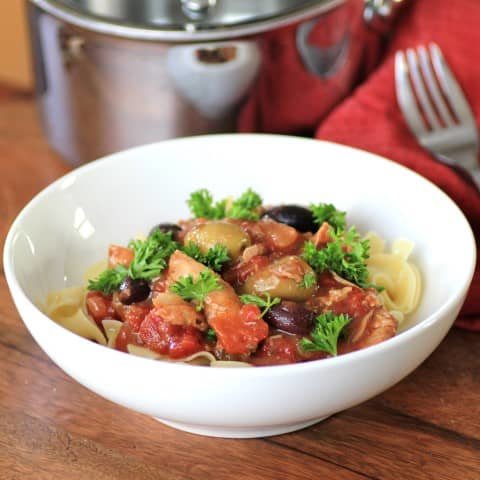 Nutrition Facts
Yield: 5
Calories: 550
Fat: 31g
Saturated Fat: 7g
Cholesterol: 160mg
Protein: 32g
Carbohydrates: 23g
Fiber: 5g
Sodium: 560mg
Ingredients
2 pounds bone in chicken thighs
2 tablespoons olive oil
1 onions (large, chopped)
2 teaspoons garlic paste
2 celery ribs (chopped)
1 red bell pepper (chopped or cut into strips)
1 cup dry white wine
28 ounces chopped tomatoes
2 teaspoons oregano paste
1/4 cup chopped parsley (freshly)
salt
pepper
1 pinch red pepper flakes
1 cup pitted olives (mixed)
egg noodles (Cooked)
parsley (for garnish)
Directions
Remove the skin from the chicken and trim off any visible fat.
Heat a large fry pan with the oil over medium heat and brown the chicken on both sides. Place the chicken in the slow cooker.
Add the onions, peppers and celery to the slow cooker.
Add the wine to the fry pan and stir and scrape up any browned bits from the chicken. Add the oregano and garlic paste and cook reducing the wine by half. Pour over the chicken mixture in the slow cooker. Add the tomatoes, parsley, salt and pepper.
Set crock pot on low and cook for 7 hours.
When done turn the crock to high, remove lid and let bubble for one hour to thicken.
Add the olives and let bubble for a few minutes to heat through.
Serve over egg noodles and garnish with parsley.
Chef:
Noshing with the Nolands