Thai Peanut & Broccoli Stuffed Spaghetti Squash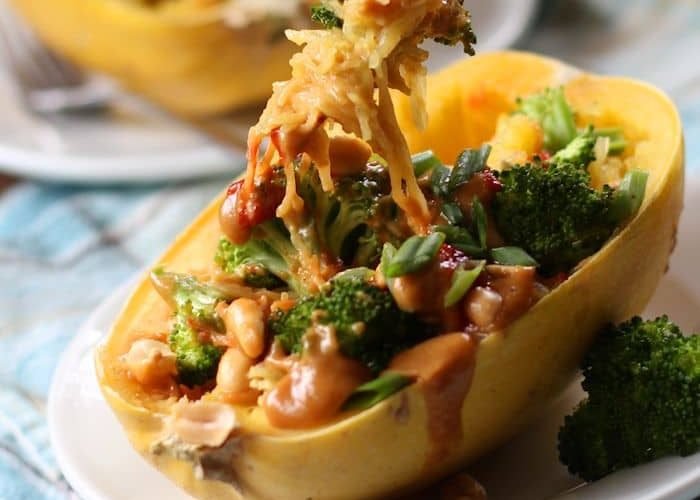 Ingredients
1 spaghetti squash (small, about 2 pounds)
1 broccoli (small, crown, broken into florets)
2 teaspoons sesame oil (can sub another vegetable oil)
1 garlic cloves (minced)
salt
pepper
3 tablespoons creamy peanut butter
1 tablespoon soy sauce
1 tablespoon maple syrup
1 tablespoon lime juice
2 tablespoons water (as needed)
2 scallions (chopped)
2 tablespoons roasted peanuts (chopped)
sriracha sauce (to taste, optional)
Directions
Preheat oven to 375°. Carefully, cut squash in half, length-wise. Scoop out seeds, but leave the inner pulp. Pour 1/2 cup of water into a baking dish and place squash halves, cut side down, into the baking dish. Roast until tender, about 40-45 minutes. Remove from oven and transfer squash halves to a dish to cool for a few minutes.
When squash has about 20 minutes of roasting time left, begin preparing the broccoli. Place broccoli, oil and garlic into roasting pan or oven-safe skillet and toss until broccoli is well coated. Place in the oven with spaghetti squash and roast until tender-crisp, about 15 minutes. Remove from oven and season with salt and pepper.
While broccoli and squash roast, whisk peanut sauce ingredients together in a small bowl. Thin with as much water as needed.
Gently rake the insides of spaghetti squash with a fork to create a noodle-like texture. Top with broccoli, peanut sauce, peanuts, scallions and sriracha.