Whole Wheat Calzone with Sausage & Peppers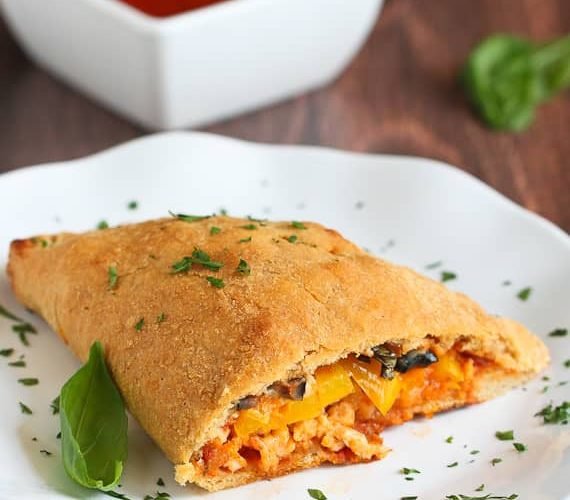 Nutrition Facts
Yield: 8
Calories: 300
Fat: 10g
Saturated Fat: 1.5g
Cholesterol: 40mg
Protein: 19g
Carbohydrates: 35g
Fiber: 2g
Sodium: 630mg
Ingredients
1 pound turkey (or chicken sausage, casings removed)
3/4 teaspoon dried oregano
1/2 teaspoon salt
1/2 teaspoon ground pepper
1/2 teaspoon olive oil
2 orange bell pepper (or red, sliced)
1 whole wheat pizza dough (recipe)
flour (for dusting)
1 cup tomato sauce
2 ounces black olives (sliced, 1/2 cup)
1/2 cup part-skim mozzarella (shredded)
6 basil leaves (thinly sliced)
tomato sauce (Extra, for serving, if desired)
Directions
Preheat the oven to 500 degrees F. Lightly coat a baking sheet with cooking spray.
Heat a large nonstick skillet over medium-high heat. Cook the sausage, crumbling with a wooden spoon, until cooked through. Season with oregano, salt and pepper. Transfer to a plate lined with a paper towel.
Reduce the heat to medium, add olive oil and cook the peppers until tender, 4 to 5 minutes.
Divide the dough into 4 pieces. Dust the counter with flour and roll each piece of dough into a 9- by 9-inch circle.
Spread ¼ cup of tomato sauce on one half of each dough circle, leaving a ½-inch border.
Divide the sausage, peppers, olives cheese and basil evenly between the pizza dough, piling on top of the tomato sauce.
Fold the other side of the dough over top of the filling and, using a fork or your fingers, seal the edges of the dough.
Place the calzones on the baking sheet and bake until the dough is golden brown, 12 to 15 minutes. Let the calzones rest for 5 minutes, than cut in half and serve with extra tomato sauce, if desired.