One of the Eastern Shore's leading philanthropies, the Guerrieri Family Foundation, has announced an $8 million gift for the construction of a new Academic Commons, including a state-of-the-art library, at Salisbury University. This is one of the largest private donations for a capital project in the campus' history.
The gift is made in memory of Patricia R. Guerrieri, an SU alumna for whom the new complex will be named. "We are grateful for the opportunity to honor our mother at the very place where she first met our father, on this campus, in a way that expresses our love for her and shares with those who did not know her what a truly amazing and gracious person she was," said Michael Guerrieri.
"The Guerrieri family has been a longtime friend of Salisbury University," said President Janet Dudley-Eshbach. "I was fortunate to have met Patti and to have shared my dreams for the University with her. I think she would approve of the impact this new center of learning will have on our students, on the University and on the greater community."
At 234,000 square feet, the $115.8 million facility is the largest construction project ever undertaken at SU. Echoing the classical athenaeum of ancient Rome and Athens, as a gathering place for intellectual, social and cultural pursuits, it is expected to become the hub of campus life.
A similar facility existed when Mrs. Guerrieri was a student at SU in the 1950s: Holloway Hall, now a campus landmark. In a 1990 interview she said, "When my sister (Nanci) and I went to Salisbury, everything was in one building—the library, dining hall, dorms, gym, everything." She liked the small college atmosphere and added, "The campus is a marvelous thing to have in the city of Salisbury."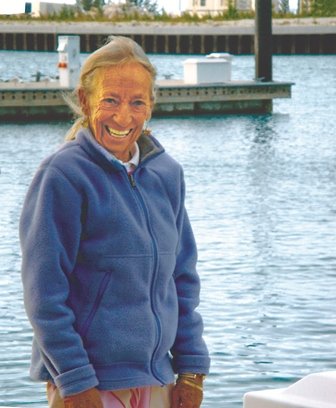 "Patti Lou" met her future husband, M. Alan Guerrieri, while an elementary education major at SU (then the Maryland State Teachers College or STC). After their marriage, they continued to live in Salisbury and Ocean City. Three of their children attended the Salisbury State Campus Elementary School, a laboratory for classroom teaching and innovation. (The site of that former building will be the new location of the Academic Commons.) One of her sons, Michael, has been involved with the SU Foundation board for some 20 years.
In 1990, the Guerrieris announced the gift of a $1 million scholarship fund, at that time the most generous endowment for scholarships in the history of the campus. The Guerrieri Scholars Program is multi-disciplinary, reaching across all four academic schools. In the last decade alone, nearly 200 students have received some $725,000 in scholarships from the endowment. Today that endowment has grown to over $1.7 million. In appreciation, the University named its student center in honor of the Guerrieris.
In 2000, a $500,000 gift from the Guerrieri Family Foundation established the Guerrieri Research Fund for equipment and materials for students and faculty in the University's Richard A. Henson School of Science and Technology. The fund also provides student stipends and support for undergraduate research. In recognition of this gift, the Guerrieri Laboratory Wing in Henson Science Hall was dedicated in their honor.
About Patti Guerrieri
The Guerrieri matriarch, who died in May 2010, had a wide variety of interests. These ranged from the natural world—plants (she loved gardening), animals including sea life, and astronomy—to history and antiques, sports (football) and cooking.
Her daughter Marybeth said she was a natural researcher, always reading up on different topics. "Each year she copied important facts she wanted to remember into the front of her date book," Marybeth recalled. Patti was also known for her beautiful handwriting. She downplayed this, saying that was how they taught handwriting when she went to school.
In her SU yearbook photos from the 1950s, she showed a sense of fashion that stood out at a rural college—classic tops combined with stylish accessories—simple and appealing even 60 years later. One yearbook called her "the cute little blonde" with a "vivacious personality." Petite (5 feet, 2 inches) and delicate in appearance, she had a natural athletic ability. A member of the field hockey and basketball teams, she often was the high scorer. Her junior year, the basketball team played the University of Maryland and trounced the larger campus, 49-28. That year she was voted Best Woman Athlete. She also became an excellent golfer before her golf game took a back seat to raising her children.
Known for her style, humor and, not surprisingly, generosity, she was devoted to her family. She and Alan had five children and nine grandchildren. She loved the water, collecting shells and fishing. In later years they lived full time in Florida.
The Guerrieri Family Foundation was established after the sale of Showell Farms, Inc., the family business, in 1995. Focused on improvements in health and education, it benefits people and organizations primarily in Maryland and Florida. In addition to SU, past recipients have included Peninsula Regional Medical Center and Wor-Wic Community College in Salisbury, Atlantic General Hospital in Berlin, Johns Hopkins Hospital and the Wilmer Eye Institute at Johns Hopkins in Baltimore, and Holy Cross Hospital in Ft. Lauderdale, FL.
"Patti Guerrieri often helped others, quietly and privately," said Dudley-Eshbach. "In many ways this new center for learning will do the same: Silent reading, browsing the stacks, conversations centered on classroom collaborations, a refreshing cup of coffee, stimulating exhibits and thought-provoking lectures—all these activities and more will happen within the new complex. None of us ever totally knows how such engagement changes lives, but it does. The Patricia R. Guerrieri Academic Commons will, in many thoughtful ways, help others to learn and grow."
About the Building
The Patricia R. Guerrieri Academic Commons is scheduled to open in 2016. It will include the library, the Edward H. Nabb Research Center for Delmarva History and Culture, academic centers serving students, a flexible assembly hall accommodating up to 400, art display space and a Wi-Fi café.
The architect is Ayers Saint Gross (ASG) of Baltimore, designer of SU's award-winning Teacher Education and Technology Center and the University of Baltimore's new Angelos Law Center. ASG is working in partnership with Sasaki Associates of Watertown, MA, which brings international experience to planning libraries. The contractor is Gilbane Inc., one of the largest privately held family-owned development and construction firms in the country.
According to preliminary economic and employment impact estimates calculated by SU's Business, Economic and Community Outreach Network (BEACON), the construction phase of the new Academic Commons will have a regional economic impact of some $238 million. This level of impact will support about 350 jobs in the local area.
This is the second $8 million gift the campus has received for a construction project. The first was from the Arthur W. Perdue Foundation in 2006.
For more information call 410-543-6030 or visit the SU website.