As a child, there was no greater joy than dropping your beach toys and making an immediate bee-line for the ice cream truck. Correction, there was no better joy than digging into whatever frozen treat you scored at the ice cream truck. The truth is, no matter how old you are, enjoying ice cream in the summertime is absolute bliss. This week, ShoreBread decided to celebrate the middle of summer with a round-up of the area's best ice creams, frozen yogurts and frozen custards. From the build-your-own sundae bar at Candy Kitchen to a brain-freezing milk shake at The Alaska Stand, we're caving in to all of our sweet tooth cravings…and you should too.
Dumser's Dairyland
Multiple Locations
www.beach-net.com/dumsers
Serving up ice cream treats since 1939, it's no wonder there's always a small mob of people congregating around each of the Dumser's locations. Ice cream is made fresh daily on the premises, with a multitude of flavors to choose from. We're partial to the Oreo crush, but the coconut chocolate chip is a closer runner-up. When it comes to sundaes, Dumser's isn't stingy. The sundae menu includes a number of crazy concoctions, from the Dieter's Revenge – three dips of vanilla ice cream topped with hot fudge, chocolate chips, crushed Oreo's, whipped cream and a cherry – to the Southern Treat – three dips of butter pecan ice cream covered with butterscotch topping, chopped almonds, whipped cream and a cherry. Ice cream sodas arrive overflowing and ready to be slurped down. Root beer, orange, cherry, chocolate and double chocolate are your options, and each are artfully topped off with whipped cream and a cherry.
Multiple Locations
If you've listened to radio commercials at all in the last decade than you've probably caught yourself humming along to the Candy Kitchen theme song. "It's the sweet, sensational, marvelous, magical…" you probably know the rest. While the song is highly addicting, the sweets are downright irresistible. Salt water taffy and fudge abounds, along with any sort of chocolate covered treat you can imagine, including chocolate-covered gummy bears! What we're particularly sweet on right now is the build-your-own ice cream sundae bar. The seemingly endless toppings bar is a dream come true for any kid (or any adult for that matter).
8905 Logtown Road, Berlin, MD (one of two locations)
410-629-1997
Worcester County's only dairy farm, Chesapeake Bay Farms, provides farm fresh ice cream for the true ice cream connoisseur. They are one of the few facilities with bragging rights to completing the entire cow to cone process on-site. With the mantra "go big or go home," what arrives is ice cream loaded with big chunks of fruit, cookies, nuts, candy, and a number of other goodies. What's more, the ingredients redefine fresh. We're talking imported, pure dutch chocolate cocoa, Madagascar pure vanilla, and real crushed vanilla bean specks. Stop in one of Chesapeake Bay Farms' two locations for one of 16 rotating flavors (they make over 50!).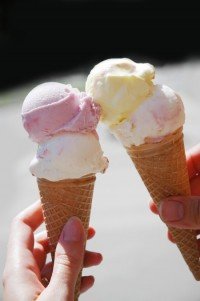 The Ice Cream Store
6 Rehoboth Avenue, Rehoboth Beach, DE
302-227-4609
Rehobothbeachicecream.com
Ice cream flavors are fairly standard here on the Shore. For the most part, your choices range from your run of the mill vanillas to some nuttier peanut butter blends. Not so at The Ice Cream Store. The list of flavors is long, and to be perfectly honest, crazy sounding. We'll start with the weirdest – Spinach. Yes, spinach ice cream. Described as Popeye's favorite, its African vanilla ice cream with finely ground up fresh spinach folded in. That's one way to trick your kids into eating their greens. Next up is the Scorpion Sting – African vanilla ice cream flavored with cayenne pepper, cinnamon, and "you can't handle this hot sauce," with deep red strawberry ribboned throughout. The Beer Ice Cream quickly caught our eye, as it's a mixture of cappuccino coffee ice cream with Indian Brown Ale from Dogfish Head. And who hasn't dreamed about combining Jack Daniels, bacon, and ice cream? Yep, the Ice Cream Store's got it.
Rayne's Reef
10. North Main Street, Berlin, MD
410-641-2131
www.raynesreef.com
A stroll down Main Street Berlin to Rayne's Reef is paramount to taking a stroll down memory lane.  Serving Berlin since 1901, the impossibly quaint soda fountain and grill is a throwback to the real deal soda fountain shops. Of course ice cream sodas, ice cream floats and ice cream sundaes are on the menu, along with milk shakes and malts. We love that you can still find egg cream and zips at Rayne's. Egg cream is a New York classic, consisting of chocolate syrup, milk and seltzer, while a zip is an old-school favorite composed of crushed ice, milk and syrup. We recommend sipping on either on a hot summer day, or alongside a heaping sundae for a serious sugar overload.
9th Street on the boardwalk, Ocean City, MD
410-289-7305
For a piece of Ocean City boardwalk history, stop by the Alaska Stand on 9th Street and the boardwalk. The Alaska Stand has been an Ocean City tradition for over 75 years, and if you've ever had their burgers or their fries, then you know why. If you're up for a milkshake and a little people watching on the boards, this is the place to go. The milk shakes are thick, creamy, and downright decadent. Try dipping your fries in your milk shake – it sounds weird but it's oh so good.
Bodacious Buckets
12907 Coastal Highway, Ocean City, MD
443-664-2406
www.bodaciousbuckets.com
For frozen custard, take a trip to the north end of Ocean City to Bodacious Buckets. There's 10 frozen custard flavors, milk shakes, floats, fresh made waffle cones, and sundaes. Not too mention cupcakes and cake pops. For specialty sundaes, we suggest the Love Bucket – your choice of four scoops of frozen custard and four toppings. To boot, you get to keep the bucket. If you're not entirely familiar with frozen custard it can be best described as richer and creamier than standard ice cream. The production time is slower than regular ice cream, resulting in a  frozen treat that's similar to frozen buttercream frosting. Yeah, its that good.
HaHa's Frozen Yogurt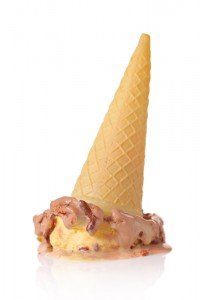 300 Coastal Highway, Fenwick Island, DE
302-581-0039
Hahasfrozenyogurt.com
While we don't always equate 'dessert' with 'healthy,' the masterminds at HaHas Frozen Yogurt have done just that. HaHa's, which is actually an acronym for Healthy Alternative Happy Attitude, aims to please with a wide variety of non-fat, low-fat and no-sugar added yogurts. They also carry non-dairy sorbet and non-dairy vanilla ice cream. All of the yogurts are low in cholesterol and sodium, and a good source of calcium and vitamin B. But does it taste good?? You betcha. There's 12 different flavors to choose from, with even more toppings. It truly is healthy meets happy.