Every so often, you walk into a restaurant with high hopes – you've heard grand reviews from fellow foodies and trusted friends, peaking your interests and your taste buds. Yet, despite the reviews you're still a skeptic at heart. How good can the meatballs really be? And just how stuffed are those overstuffed sandwiches? This was our thought process last week as we made the drive to Rehoboth to check out the latest addition to the Touch of Italy family of restaurants. Would we be disappointed? Or would our culinary minds be satisfied to the fullest…
We were barely in the door when we realized that we had stumbled upon a true, Italian gem. The mix of authentic ambiance and mouthwatering smells were enough to leave us convinced that this was the real deal. After grabbing a table we couldn't help but wander over to the pasticceria and the salumeria – pastry shop and delicatessen – to oh and ah over the glass cases teeming with cheeses, meats, prepared foods, olives, Italian cookies, pastries and more. In every Italian village, there is sure to be at least one pastry shop and one cured meat shop. This same notion has translated well in Rehoboth, with meats hanging overhead, mozzarella made on site, and baked goods coming fresh out of the oven. We immediately felt like kids in a candy shop.
Touch of Italy originated with two Italian family traditions that trace back to the 1800s, in the Marche and Abruzzo regions of Central Italy. Currently there are four Touch of Italy locations throughout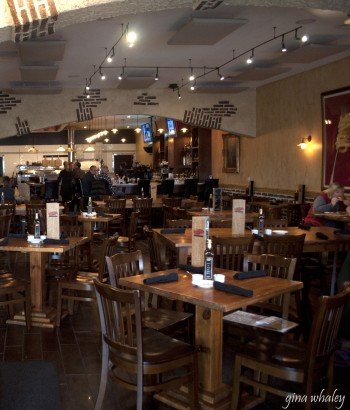 Rehoboth and Delaware. According to Dolores Pack, who has taken the reins on Marketing and Communications for Touch of Italy, the first location was a tiny storefront on Baltimore Avenue in downtown Rehoboth in 2010. "If you had five people in there than no one else could fit in the store," said Pack. The second store to open was in downtown Lewes. "It was such a huge success and there were only ten tables in there," explained Pack. It was there that Pack fell in love with Touch of Italy. Being Italian, Pack was skeptical when the manager insisted she try the meatballs.  "I tasted the meatballs and I couldn't believe it tasted so good – I was a convert."
In addition to the Lewes and Rehoboth locations, there is also a bakery/pasticceria in the Village of Five Points in Lewes. Homemade breads are baked daily, 365 days a year, to supply the three restaurants. Of course we immediately had to sample the freshly baked bread, opting to follow Pack's advice and dip our bread in olive oil sprinkled with red pepper flakes and freshly grated Parmesan cheese. We were hooked, and eager to start ordering more.
Fortunately for us, Big Ray was behind the counter at the pasticceria. Big Ray was quick to please, slicing off samples of meats and cheeses for us to sample.  Pack pointed out that there are roughly 33 different types of cheeses available, including cheeses that can be freshly grated for you. One thing led to another and we found ourselves seated at a table, feasting on antipasti, a selection of breads, and a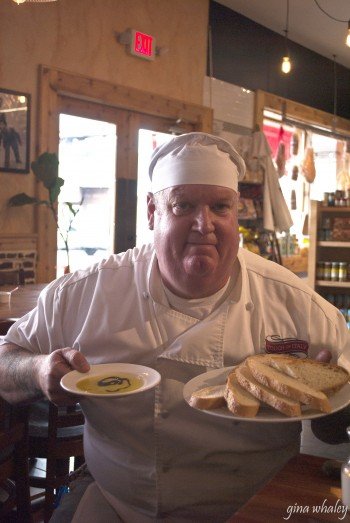 pizza fresh out of the piping hot oven. When we say piping hot, we mean it. The wood-fired pizzas spend just two and a half minutes in the 800 degree oven. We went simple, with the San Marzano. What arrived was perfectly delicate thin crust topped with sauce, grated Italian cheeses, basil, EVOO and handmade mozzarella. In between scarfing down slices of pizza while trying to contain some professional composure, we also feasted on prosciutto, cheese, stuffed sweet peppers and sun-dried peppers. Having only sampled sun-dried tomatoes before, we were intrigued when Pack referred to the sun-dried peppers as "a little slice of heaven." She wasn't being facetious; the thin slices of peppers can be best described as a slice of heaven.
The only problem we found ourselves facing was not having enough room to order the meatballs or one of the hero sandwiches. "They come out on a huge piece of bread loaded with meat," explained Pack, bringing a sandwich over for us to photograph…huge was an understatement.
Everything in Touch of Italy, from the ingredients for the entrees to the meats and cheeses in the display case, are sourced from Italy or New York. 'Only the best' seems to be the unofficial motto reverberating here. After digesting over a few cups of coffee, we were presented with a selection of Italian cookies before heading back to the counter to stock up on goodies to-go (including buying out the rest of the mini cream puffs). The desserts range from biscotti to massive éclairs to filled-to-order cannolis…all freshly baked daily.
While we left with an armful of goodies, by far the best thing we gleaned from the afternoon was the knowledge that Touch of Italy will be opening an Ocean City location in April. We love an excuse to make a trip to Rehoboth or Lewes on any occasion but having a Touch of Italy right in our own backyard in mid-town Ocean City is a welcome addition to the local culinary scene.