Ocean City MD– The 2014 National Safe Boating Week campaign kicked off Saturday, May 17 with Coast Guard Auxiliary units promoting recreational boating safety around the nation.  The campaign – which runs through May 23 — is dedicated to helping boaters understand the need for boating education and Vessel Safety Checks, as well as the importance of wearing life jackets while boating.
In Ocean City, the Coast Guard Auxiliary's National Safe Boating week kickoff event was held at West Ocean City Boat Ramp on May 17 to reinforce the safe boating message.  The kickoff event included free vessel safety inspections and handout information that include Tide Charts and information on the Coast Guards' American Waterway Watch program.  Vessel Safe Inspections are conducted during the summer months every Saturday and Sunday from 0800-1200 at the Ocean City Boat ramp in West Ocean City.
The Auxiliary is also holding Maryland Safe Boating classes at the Library in Ocean Pines.  The State of Maryland requires that all boat operators born after July, 1972, must pass the Maryland Department of Natural Resources Safe Boating Class.  Three Maryland Safe Boating Classes have already been held in the area and nearly 100 new boaters have completed the requirements to operate a vessel on Maryland waters.  Additional classes are scheduled in June and July.  Seating is limited if you are interested attending a Maryland Safe Boating class please contact Steve Haffner at 410 208-2531.
"National Safe Boating Week gives us an opportunity to reflect on the safe operation of boats on the water.  The incidents we study bring home the need for simple safety precautions while underway," said Rob Sersen, Coast Guard Auxiliary, Sector Baltimore Captain.
According to the Coast Guard's 2012 Recreational Boating Statistics, nation-wide there were 4515 accidents that involved 651 deaths, 3000 injuries and approximately $38 million dollars of damage to property as a result of recreational boating accidents.
Almost seventy-one (71) percent of all fatal boating accident victims drowned, and of those, almost eighty-five (85) percent were reported as not wearing a life jacket.  However, only nine (9) percent of deaths occurred on vessels where the operator had received boating safety instruction from a National Association of State Boating Law Administrators (NASBLA) approved course provider.
Operator inattention, operator inexperience, improper lookout, machinery failure, and excessive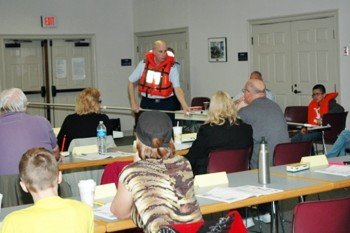 speed rank as the top five primary contributing factors in accidents.
Alcohol use is the leading contributing factor in fatal boating accidents and is listed as the leading factor in 17% of deaths.
"We encourage everyone to wear their life jackets and use a 'kill switch' while boating," Sersen said.  "Frequently, we see young children in life jackets, but their parents are not wearing them.  All of us need to find a life jacket that fits, is comfortable, and wear it to protect ourselves and set a good example for others.  I wish the boaters of Maryland a safe boating season."
The United States Coast Guard Auxiliary (USCG Aux) is the uniformed volunteer component of the United States Coast Guard (USCG).  Congress established the USCG Aux was June 23, 1939, as the United States Coast Guard Reserve.  Not quite two years later, on February 19, 1941, it was re-designated the United States Coast Guard Auxiliary.  The Auxiliary exists to support all USCG missions except roles that require "direct" law enforcement or military engagement.  Atypical roles include those in which an active USCG member is replaced by an Auxiliarist.  This frees the active Coast Guardsman to serve in one of the two roles that can't be filled by an Auxiliarist.  As of May 2010, there were approximately 30,000 active Auxiliarists.  If you are interesting in becoming a part of Team Coast Guard contact Dennis Kalinowski, at 410-208-4147.