"Off centered ale's for off centered people" is the slogan that resonates through the large corridors at Dogfish Head Craft Brewery. The Delaware start-up is constantly trying to concoct new recipes to push the boundaries with off the wall ingredients and innovative brewing techniques. On our recent day trip to the brewery, we toured the large factory that towers over any of our other Beer tour stops. Fittingly, this not-so-average company began as a product of indecisiveness.
Sam Calagione, the mastermind behind the Dogfish brand, had just graduated from college and was searching for a job to put his newly acquired English degree to use. While at a bar in New York, he sampled his first craft beer and was astounded at how flavorful it tasted compared to other beers he had tried. Calagione soon started to help a friend with his home brewing kit and eventually started brewing small batches on his own.
Once Calagione got a taste for what craft brewing could be, he had an epiphany about his career goals. Now all he had to do was tell his parents that he would not be using his English degree and that he would instead be making beer for a living. Calagione planned to break the news to his parents when they were on vacation in Maine so that they would be nice and relaxed and hopefully not flustered when they learned about their son's uncertain future.
While out on a walk with his father, Calagione told him about his new career goal and anxiously waited for a response. As they passed a street sign that read "Dogfish St," Calagione's father looked up and said "You know, Dogfish would be a good name for a brewery."  And with that, the future brew master had approval and a name for his brewery; it was time to start brewing!
So where is a good place to start a brewery? Dogfish Head didn't land in Delaware because the state was tagged as a great hop growing state; rather, Calagione followed his high school sweetheart to Delmarva in order to raise a family. It was an added bonus that there were no breweries located in Delaware yet.
The family picked the Rehoboth boardwalk as the ideal location for their brew pub, where they would operate as a restaurant and provide specialty craft beers to complement the customer's meals. Right before opening day, Calagione was putting the finishing touches on his store when he saw a man peering in his windows.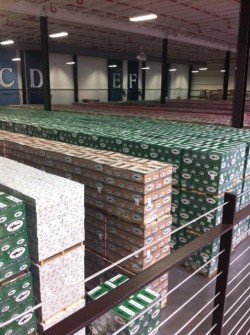 Calagione approached the man and after some idle chit chat, Calagione learned that the reason Delaware was devoid of breweries was due to the fact that they were still illegal in the state (since the time of Prohibition).
To remedy this situation, Calagione packed up some of his beers and went to the homes of as many local legislators as he could, campaigning for a change in the law. In the end he became an unofficial lobbyist for his cause and legalized his business, bringing Dogfish Head beers to all.
Over time, Dogfish received increased popularity and moved their processing plant to where we visited this week in Milton. Today there is still a small brewery behind the continually hopping Rehoboth restaurant, but this equipment is more often used for experimental, small batches of beer. Dogfish has had numerous expansions in recent years including the beer pipeline, four new holding tanks and the back building where beer is bottled, packed and stored for delivery. The back building is unique in that it is the highest point in Milton at 80 feet above sea level and home to "Beer Heaven," where tons of bottled beer awaits in towering stacks.
On our tour we sampled and learned about the entire spectrum of Dogfish's beers. There is an incredible variety of unique brews, some of which are seasonal, year round, or one time creations – so much so that it's hard to keep track of them all.
Palo Santo Marron is seasoned in large wooden casks, alongside oak tanks which are the largest since prohibition, made of Palo Santo trees. These trees are so strong that they are bullet proof and only found in Paraguay. However (as we soon discovered) it also makes a great beer.
The Red and White is a beer aged with pinot noir, creating a beer taste at the start with a wine finish. We also tried Tweason'Ale, a gluten free brew made from buckwheat and with strawberry flavor. Some of Dogfish's best known beers are their IPA's like the 60 minute, 90 minute and 120 minute IPA's. These beers have hops added to them continually for the amount of time that they are named after, increasing the hop flavor. The 120 minute also has an impressive alcohol percentage of 15-20%. Similar to this beer, the average alcohol percentage of all Dogfish's beer is high, leveling out at 9%.
Aside from all of their imaginative beers, Dogfish Head also tries to be as eco-friendly as possible. All of their bottles are made from 50-70% recycled glass. They also collect, clean and reuse as much previously used water as they can. The clear plastic look-a-like cups that we used at the tasting room bar were actually made from corn! Always coming up with new ideas and flavors is the Dogfish way, making it a distinctive part of Delmarva.