As you travel south down Route 112, you'd be amiss if you didn't make a detour to the Town of Snow Hill. Impossibly quaint and boasting some terrific shops and restaurants, it's a day trip within itself. However, if you go even further through Snow Hill (we're talking down Main Street and onto Route 12) and make a left onto Old Furnace Road, then you can't miss the charming little area where Furnace Town sits in the middle of the Pocomoke Forest.
This past week, ShoreBread decided to take a little trip to Furnace Town to revisit one of our favorite historical hotspots and to find out what's new and exciting at the living heritage museum. You'll feel as if you've stepped back into an early 19th century village as soon as you arrive. We'll start in early 1828, when the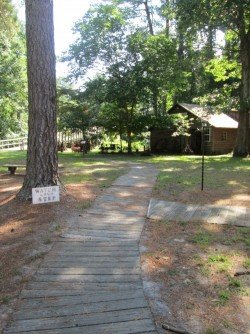 Nassawango Iron Furnace was in its prime. Many workers, including miners, sawyers, molders and bargemen labored all day to make iron. History proves they gathered bog ore from the Nassawango Swamp, brought clam and oyster shells up the canal from the Pocomoke River and made charcoal in the Pocomoke Forest.
These highly sought after materials were loaded into the furnace from the top, heated to nearly 3000 degrees before the two resulting liquids were drawn off at the bottom of the furnace. Iron was poured into molds and loaded onto barges which were towed down the canal by mule to ships that were waiting to go to huge cities like Philadelphia, New York and Baltimore.
Furnace Town (also known as Nescongo) was the company that the town built around the Iron Furnace by the Maryland Iron Company. History reveals that around 300 people lived and worked there. Families gardened, hunted for food, kept house, cleaned and cooked. Children  were responsible for chores and very rarely went to school. The people who inhabited the town were blacksmiths, bakers, cobblers, gardeners and weavers. Unfortunately, in 1850 the town erupted in bankruptcy. 7,000 acres, beds of iron, the Furnace, mills, the houses, stores, barns and tools were put up for sale. Almost all of the residents moved away to seek employment elsewhere. Eventually, in the 1960's, the Worcester County Historical Society began restoration work.
Pretty cool background huh? Well you have to see it to believe it. Walking in, you are blown away by the charm. (PUT AWAY THOSE CELL PHONES AND INDULGE IN THE TRUE ATMOSPHERE!) When we went, we were lucky enough to meet the weaver, gardener and blacksmith. All were dressed in true 1800's attire and really made us feel like we were headed back in time.
But don't take our word for it… you need to see it for yourself. It truly is one of a kind- think of it as a mini Jamestown right in your backyard.
When you first enter, the visitor's center is full of great gift ideas, including local produce and great history lessons. Once you walk out back you are transported into the true Furnace Town, where you'll find an old,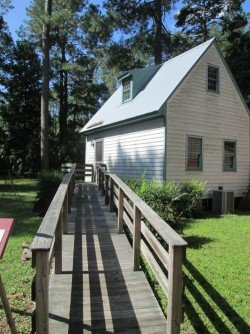 white building known as the Harrison. This is where guests would have stayed. It has a charming single room downstairs with a fireplace for heat, with the sleeping quarters located upstairs. The Church is next door (we learned that they still have monthly masses!) In the 1860's services in the Church lasted several hours and the men sat on one side while the woman sat on the other.
The woodworker's shop was next… this housed a collection of tools dating back to the 1880's most of which were donated by hometown wood worker Ernest R. Glaser. We then passed through the Blacksmith Shop, and finally made our way up to the Charging Ramp. Big carts filled with materials were taken by mules to the top of the Furnace. Located past the ramp is a museum and the gardeners house, which is overflowing with fresh flowers.
In addition to the simple charm Furnace Town already embodies,  they also offer weddings, birthdays and family reunions. With a gorgeous view and stunning scenery, its easy to imagine how beautiful it would be! Furnace Town is also host to several events each year that the local community looks forward to including the most popular, the Celtic Festival, which will be held October 4th and 5th. Other exciting events include the Nassawango Quilt Festival, 19th Century Christmas, Strawberry Day, Archaeology Digs and Nature Walks.
"It's just peaceful, quiet and so relaxing," said Customer Service Specialist Ashleigh Powell. "There is definitely something to be said about that."
Furnace Town is open from April 1st until October 31st, Tuesday-Saturday 10-5 and Sunday 12.
Daily Admission Prices are Adults: $5.00 Youth: 2-13 $3.00
For more info visit: www.furnacetown.com