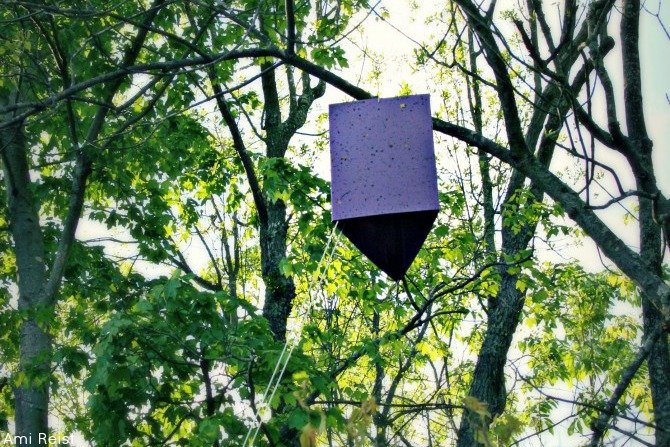 This hanging purple box found in Martinak State Park is one of many on the Eastern Shore of Maryland. These boxes are aimed to trap the Emerald Ash Borer, an invasive beetle known to destroy millions of trees. Over the past month or so, state officials have installed these purple traps to prevent tree damage and monitor the expansion of the invasive species.
Martinak State is a great public park, located on Maryland's Eastern Shore, in the rural town of Denton. There are over 3 miles of hiking trails that wander through the par, including a self-guided nature trail and an activity trail. The Point Trail extends out to the junction of Watts Creek and the Choptank River, where visitors have the opportunity to see Ospreys, Great Blue Herons, and other waterfowl. The purple EAB trap shown was noticed while on the Point Trail.
I have seen more of these purple traps hanging from local trees recently. I originally thought that they may have been a preventative measure for tree fungus, silk worms, or something of the like. It wasn't until my trip to Martinak earlier this week that I saw a small sign attached to the base of a tree with a trap that I really discovered exactly what these purple boxes were for.
An
Emerald Ash Borer
is a metallic green colored, wood-boring beetle that is lethal to all North American ash trees. It spends most of its life as a larva under the bark of an ash tree. The bug most likely entered the U.S. through wooden shipping materials from Asia. Now, it's moving swiftly across the county through firewood, ash long, and nursery production shipments. This beetle can kill an ash tree in 2 – 5 years.
The hanging box is a sticky trap that the United States Department of Agriculture officials and cooperators are using to identify where the invasive pest is located. The trap uses Manuka oil as an attractant to lure the beetles to it. The surface of the trap is coated with a sticky material which causes the Emermald Ash Borer to adhere to it. The traps will be hung in ash trees for up to 6 months.
Non-native organisms, like the emerald ash borer, are often more destructive in a new range because they do not have natural population controls such as parasites, predators, or diseases. Host plants, innocent of previous contact with an organism, have not had time to adapt and develop effective defenses against them.
You can help slow the spread of this devastating pest by surveying your own ash trees and not moving firewood from your home to other areas.
Check your ash trees for the following symptoms if you believe it may be infected:

Distinct 'D' shaped exit holes in the bark
'S' shaped tunnels on the surface of the bark
Sprout growth at the tree base
Unusual activity by woodpeckers
Die-back on the top third of the tree
Vertical splits in the bark

If any of your trees have more than two of the above symptoms, send photos of your tree (up close and far away) to Paul.Chaloux@aphis.usda.gov.
Martinak State Park is hoping to prevent these beetles from taking over any more of their ash trees. It would be devastating to see a large amount of trees in the park destroyed by an invasive bug.
63 campsites are available for tent or trailer camping at the park, 30 of which feature electric hookups. Camping areas feature a central bathhouse with showers and toilet facilities. The park has several picnic areas with shaded sites, picnic tables, and grills. One pavilion is available and may be rented through the Statewide Reservation System (1-888-432-2267 for inquiries).
Martinak State Park
derives its name from Mr. George Martinak, who deeded the land to the state in 1961. Mr. Martinak wanted the location preserved as a recreational facility for those who enjoyed its natural beauty as he had. The park was opened to the public in 1964.
Have you seen any of these purple boxes hanging from trees in your neighborhood? I noticed one hanging from a tree on Route 589 right near the Route 90 overpass yesterday. Take some time to examine your trees and notify the
Maryland Department of Agriculture
to take precautionary steps to prevent this beetle from destroying our trees.
Check out the gallery below for more photos from my recent trip to Martinak State Park: