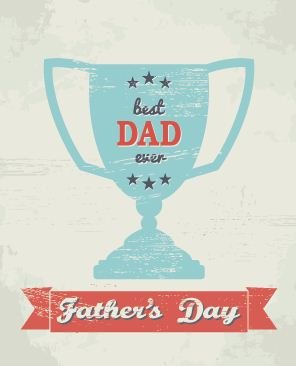 Father's Day is a holiday that celebrates fathers. It's this Sunday, June 17th. Fathers influence us in many ways. From children to adults, we each share a special bond with our father figures. How are you going to celebrate the 3rd Sunday of June? Spend some time with your dad! We've put together a little cheat-cheat if you need some advice about what to do on Father's Day this year…
How to Celebrate Father's Day
1.) Start by getting your dad a card. Better yet, make one yourself. Make sure that your card includes some of your dad's favorite things. Fishing, cars, woodworking, boating, and hunting are all great hobbies to include. If in doubt – some dad's always laugh when a card mentions burping, farting, or snoring. These subjects are perfect for dad's that like humor. Be sure to write a note about how thankful you are for your father and all that he helps you with, too.
2.) Then, find something cool to give your dad. It could be an expensive gift, but it doesn't really have to be. Your father just wants to know that you were thinking about him. Your dad doesn't really need another tie or a set of cuff links. Check the list below for some neat gift ideas:
The gift of sleeping in – Be quite and give dad a few extra minutes of shut eye
Some fishing bait – Some night crawlers in a dish are enough reason for your dad to spend the afternoon relaxing by the water – especially on the shore
A cake – Pick up a boxed cake mix at the grocery store and make your best cake
Ice cream – Can't bake? Dad probably would like a carton of ice cream just as much
A mix tape- Raid your iTunes collection for some songs that you know are your dad's favorite. Make him a playlist; put it on his iPod, iPhone, MP3 player, or CD.
A whoopee cushion – All dad's love practical jokes. Take the cushion to the Ocean City boardwalk and squeeze it behind unsuspecting passerbys. They'll laugh when they hear the fake fart noise and your dad will laugh, too. (FYI: This activity is fun on any day – not just Father's Day)
3.) Eat. Whether its breakfast, lunch, or dinner – all dad's like a good meal. Take your Father out on the town for something nice or create something delicious on your own. It is June – prime grilling season – and most men really like to grill things. Burgers or chicken made on the grill is always an easy option that requires little clean-up afterwards.
4.) Pull out some fun old photos and take some new photos. Take a walk down memory lane by creating a pile of photos to show dad. You could be a little more high-tech and even make a photo slideshow to show him on your computer or television. Your father would probably love to be reminded of some awesome times in the past. Remember to take a photo with your pops on Father's Day so that you can add it to the photo collection for next year.
5.) Get your family together. Gather up your siblings and hang out with your dad for a while. Plan a trip to his house or invite him over to your place. Just spending time with your father on Father's Day is the perfect way to celebrate.
Have fun celebrating! Happy Father's Day!