Alternate Perception. What's your reaction?
Do you take the two words side-by-side as they are? Do you even question what an 'alternate perception' might be? Do you assume it's self-explanatory? Or do you break it down by definition?
Alternate: (Adjective) To alternate or do first one thing, then the other.
Perception: (Noun) The act of apprehending via the mind or cognition; understanding immediate or intuitive recognition or appreciation.
Photography students at Salisbury University had several weeks to think about the definitions of the combined words: Alternate Perception. Those few weeks were needed to determine how perceptions are formed, what thought process perceptions evoke, and how to go against those perceptions – in an alternative manner.
During the month of November, a student photography exhibit called Gallery 303 home. Students assembled their puzzling pieces in the College Avenue gallery so that others could admire their work, create their own perceptions or learn about the thought process running through the artist's own minds as they created the forms of photography.
"We were told to break the rules; to try and achieve a different look from a traditional form of photography by breaking the rules," said Salisbury University art student, Amanda Lockwood.
The students who participated in the Gallery 303 showing this month used many different techniques to complete their assignments and 'break the rules'. The most popular alternate processes used were cyanotype and photogram variations.
A cyanotype is a printing process that gives a photo a cyan (blue) coloring by mixing ammonium citrate and potassium ferricyanide. Cyanotypes are often referred to as blueprints. Photograms are produced by placing objects directly onto the surface of a light-sensitive photographic paper and exposing it to the light. Photograms are most often accomplished by using slightly transparent items, a dark room, and bright white light.
Alternate processes can alter visual perceptions. While viewing the student's photographs, art, and installations – the mind must shift. The viewer's mind must focus on the piece to determine if what they are staring at is really as it seems. The goal of the project was to create art that messed with the mind, left the viewers questioning their initial thoughts, and caused a reaction that changed the perception of the piece.
For example, Sasha Dulyachinda took and processed three different pieces simply titled Weathered #1, #2 and #3. To alter her pieces she conducted a few tests,
"The film was immersed in water for five days, exposed to day and night temperatures and then processed."
The different outdoor elements caused each of the three photos to have slightly different effects. One photo had a stripe of light purple at the top of the image. Another had a yellowish-orange haze covering the entire surface. The last looked relatively normal; unscathed from drastic temperature changes or rain.
"Further experiments may include photo prints being submerged in water and different liquids; rain water, polluted water, etc."
The rest of the gallery was filled with photographic pieces from 16 other students. Below are pieces from the Alternate Perception gallery at SU. Visit Gallery 303 on College Avenue for seasonally changing art displays by talented students.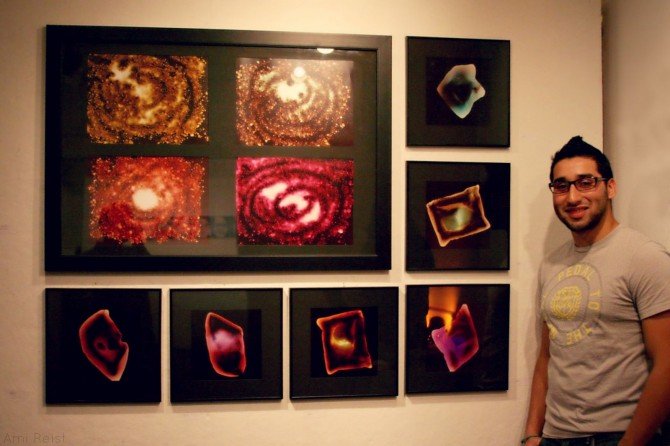 Aurora Galalis by Jonathon Arlds. Photograms. Colored salt arrangements exposed to bright light in a dark room and frozen blocks of dyed water. The salt arrangements and frozen water blocks were experiments. Arlds was curious to see what would happen when the dyed materials were exposed to light. Aurora Galalis is the result; images that resemble galaxies. The artist carefully planned out the images spacing, framing options, and arrangement based on what he would expect a faraway galaxy to look like.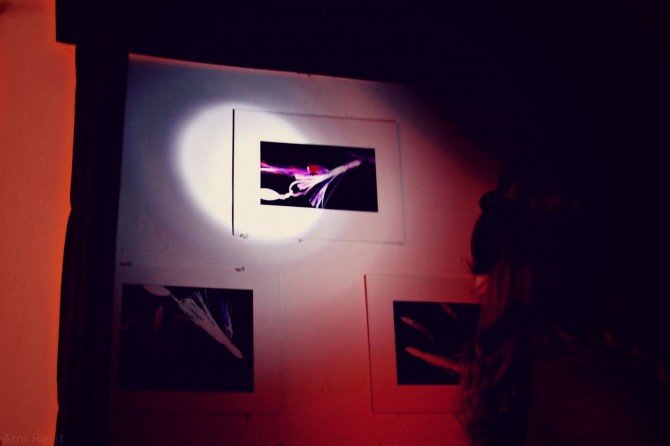 Deep Sea by Amanda Lockwood. Photograms that depict the experience of discovering deep-sea dwelling fish. Using photogram processing, Lockwood exposed fish-like objects placed on photo sensitive paper and subjected it to bright light. She then constructed a 'dark room' and displayed the photograms on the walls. Viewers were asked to wear a headlamp when viewing the piece in the dark room. The object of Deep Sea was to feel as though one viewing deep see species in a dark marine environment. The headlamp helped viewers focus on one photograph at a time, viewing subjects individually instead of as a whole and thus creating an alternate perception in the viewer's mind. Lockwood is shown in the dark room, wearing a headlamp and viewing her matted pieces.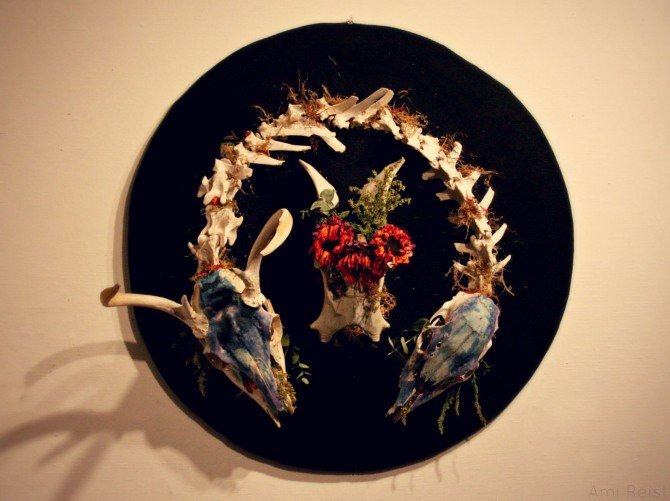 Shavasana (Alter Piece) by Katie Gill. Cyanotype / Mixed Media piece. Shavasana is the final pose in all yoga exercises. The piece is meant to represent the cycle of life; from birth to death. Shavasana is also known as the corpse pose. The cyanotype process was applied to the top of the flower filled skulls. The floral pieces also represent birth and death; from freshly cut to slowly decaying flowers.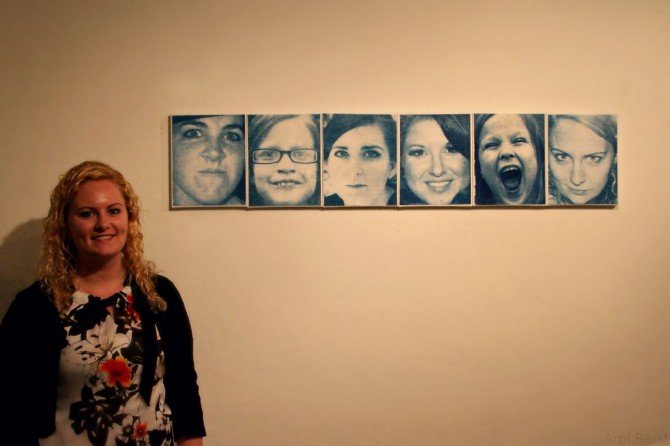 Emotional Change by Kristen Day. Cyanotype processing on watercolor paper applied to canvas. Day's six-piece photographic display featured facial images of six different people, side-by-side. The goal of the piece was to evoke emotional responses from viewers. Day wanted to create a piece that caused viewers to have an emotions change and reaction to each individual facial expression exemplified.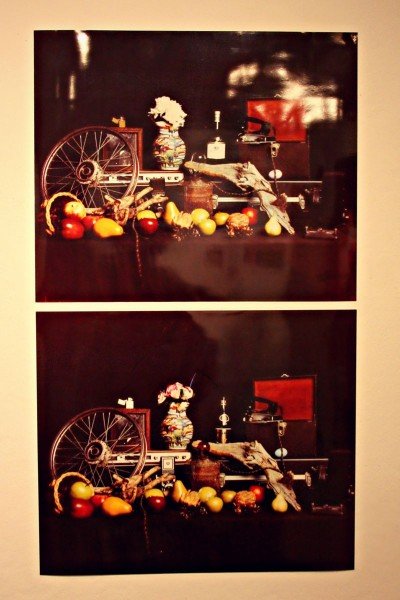 I Spy by Preeda Dulyachinda Jr. Color prints. Slide film cross-processed in C-41 (color negative) chemistry. Dulyachinda's I Spy pieces are exactly as they seem – like an extra-large 'I spy' challenge. The photographer changed 7 props in a still life, too before/after photos, and hung them next to one another so viewers could spend time searching for the slight differences between the two images. Photographed using a large-format camera and color negative developing, Dulyachinda achieved a skewed red tint and a perceived fogginess. Can you spy the 7 differences in his images?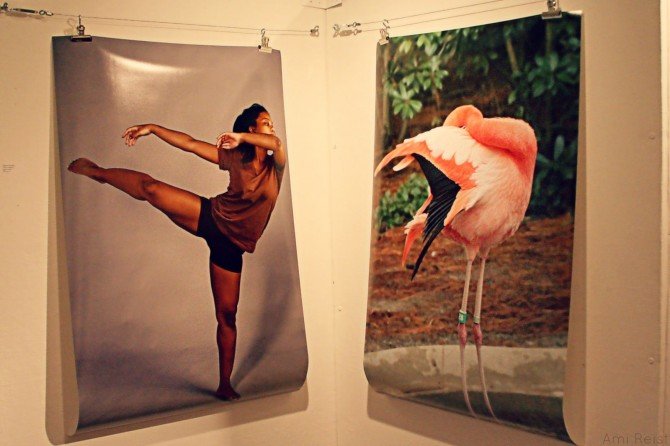 Grace (Diptic) by Shannon Brooks. Digital print. During a trip to the zoo for a biology course, Brooks carried her camera and snapped photos of many animals and hoped that she'd see something spectacular. She recalls the flamingos being really loud and temperamental while trying to wake up during the early morning hours. One photo she took shows a bright peachish pink flamingo with its head tucked beneath its wing. While looking at the photos after processing, Brooks met with a group of dancers and had them try to recreate the poses the birds had made during her trip to the zoo. That's how Grace was formed. Brooks printed large (roughly 30" by 44") images of a dancer and a flamingo, both posing in very similar positions. While viewing the pieces, one's eyes are drawn from photo to photo trying to find similarities between the two.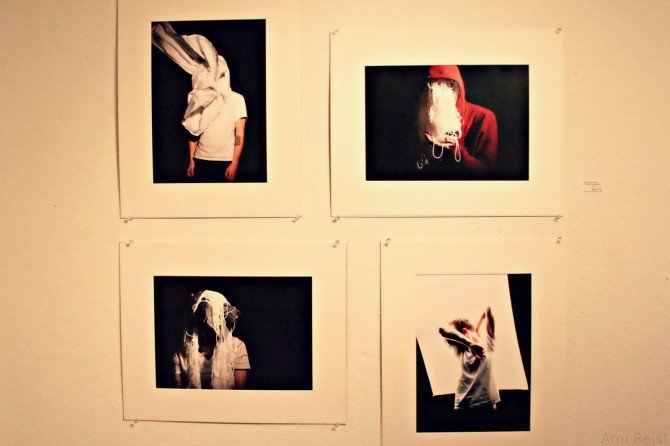 I Think It's Raining by Karl Kalenowsky. Photographs. Kalenowsky's four-piece photo display was a way for the photographer to experiment with different types of lining. Two of the photos are self-portraits, two were taken by someone else. Kalenowsky really wanted to incorporate yarn and tissue paper into his piece. Initially, the idea was to just photograph unraveled balls of yarn. It wasn't until setting up a lighting studio that Kalenowsky chose to include a figure in the pieces.
Also in the gallery showing were pieces by the following artists: Sarah Russo (coral photograms), Peter Smith (bleached canvas cyanotypes), Kristina Miedzinski (photographed portraits), Sasha Dulyachinda (photo experiments and cyanotype lampshade), and Elissa Laib (cyanotype on silk and linen featured inside of a rodent cage).
Photos by Ami Reist.