As most of you know, earlier this year we embarked on a  Beer Tour to the many local craft breweries around the Shore. We realized however that not everyone is a beer drinker, so to accommodate our wino readership we thought there would be nothing better than to travel down the Eastern Shore wine trail. With close to a dozen wineries and vineyards stretching out along Delmarva, it is going to be a delicious ride.
Our first stop was to the outskirts of Vienna, Maryland, home to the local winery and vineyard, Layton's Chance. To reach the vineyard, we rolled along a country road surrounded by nothing but fields and trees – in fact, the long, windy road is emblematic of the long road that led the Layton family to create their family masterpiece.
Lazy Day Farms is home to the Layton family and also serves as the location for the vineyard and winery. William Layton, the winemaker, grew up on Lazy Days Farms, where his parents owned and worked the land. His parents still live on the farm, just down the road from where William and his family now live. While the surrounding land is still an operating farm, a piece of the area was transformed in recent years to house Layton's Chance.
The winery came about in an effort to make some extra money. William Layton explained why his family ultimately chose to open a vineyard instead of a brewery. "We already had a farm so we thought about what else we could grow and we could grow grapes, unlike hops. We also had a lot of help from researchers at University of Maryland." Layton's Chance was also a product of Jennifer Layton's, (William's wife) MBA capstone project. While studying at Salisbury University, Jennifer created business plans and strategies to set up what would later become her own family's business.
We arrived at the vineyard at end of winter pruning, with sticks and vines still lying on the ground. However, we heard the best time to come and visit, or hold an event among the vines, is during late summer and early fall, when the leaves are full and the grapes are visible. In fact, at the end of the growing season the plants grow excess foliage and, as a result, workers have to go through the "leaf pull." In this task, workers pull leaves off the vines so that the hanging grapes receive adequate sunlight and are able to ripen.
However during our visit, the vines were bare, without a spot of green in sight. This is because the plants need several days of temperatures above 50 degrees in order to bud, and at that point we had only had one warm day so far (gotta love that irrational Eastern Shore spring weather). The good news is these particular conditions gave us a clear view of the tools on the vine that are used to help the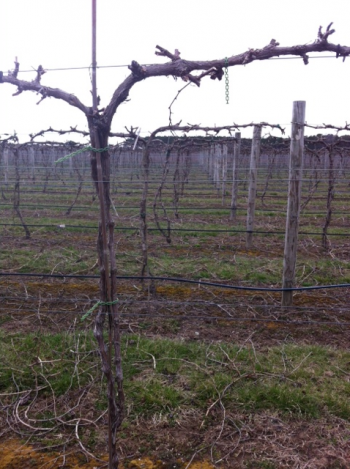 plants' growth. Near the bottom of the vine was a tube used for irrigation. However we were told that the irrigation system had never been used to simply water the plants. Instead it is used as a fertilizing system.
The reason that water has never been the sole source pumped through these tubes is due to the fact that grapes do not need a lot of water in order to grow. In fact, they even have a better quality if they receive relatively little water. If the plant takes in too much water, the sugar in the grapes becomes diluted and so does the grape's flavor. Incidentally, this would cause the wine to depreciate in flavor and let's be honest, nobody wants a weak wine. For this same reason tiles are located directly underneath the soil of the plants to direct water runoff into a drainage pond down the hill.
So what happens to the grapes once they are off the vines? As obvious as it sounds, they are separated into two categories, red and white. These two different colored grapes go into two different machines that produce sinfully delightful beverages. The red grapes are put into the machine with stems, seeds and skins still attached. After the mixture of all of these pieces has gone through the machine, the inedible solids naturally rise to the top of the liquid and are easily removed before fermentation.
The white grapes however are peeled and after they are processed into grape juice they are immediately removed from the machine and put into vats, while the red grapes remain in the machine for a time before also being deposited into vats. The Lazy Day Rose is uniquely made, unlike other wines. This recipe comes from a red grape but is processed like a white one and is peeled and de-stemmed, creating a light blush color.
What are some of the flavors of wine that Layton's has you ask? Well for starters, the 2011 Traminette is a dry white made from a German-American hybrid species of grape and has notes of apple and grapefruit. On the opposite end of the spectrum, the 2012 Norton is a dry red wine made from a Native American grape with earthy hints of chocolate and black currant. Both of these wines are named after grapes because that species of grape makes up at least 75% of the mixture, similar to a chardonnay or merlot.
Layton's Chance also offers Joe's Cool Red, which we saw in the tanks fermenting and trust us it is red. This Eastern Shore favorite is beloved by locals – made with sweet concord grapes, its perfect for that Eastern Shore sweet tooth. Two fruit wines are also available, made from strawberry and watermelon. The watermelon wine is not pink like you would imagine, it actually closely resembles white wine in color.
As we drove away from the family farm and back to reality, we were thrilled to be bringing back a token of Joe's Cool White with us. We will definitely be back when it is warm outside to enjoy the concerts on the lawn and perhaps even a wedding at the vineyard. What's more, Layton's Vineyard is hosting a kids Easter Egg Hunt on April 13th, from 1pm to 4pm. The afternoon will include prizes, treats and fun. For the adults, mark your calender for April 18th for the blindfolded adult Easter egg hunt. That's one we just can't miss.