At ShoreBread, we love locally owned and operated businesses that are deeply rooted in both the Eastern Shore and tradition. Dolle's exemplifies all of these tenants, with over one hundred years of history serving Ocean City locals and visitors. We caught up with Anna Dolle this week, who along with her brother Andrew, runs the family business that their grandfather started in1910. Between the tour of the candy making magic, the Easter displays, and our interview, we've acquired a new found love for the salt water taffy mavens.
The Dolle family has been making quality salt water taffy, caramel corn and other candies since 1910 when Rudolph Dolle purchased a fledgling salt water taffy business at Wicomico Street and the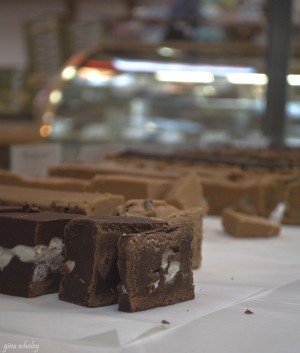 Boardwalk. The rest is history, with the traditions started by Rudolph preserved by his children and grandchildren. Over 100 years later, things have certainly changed along the Boardwalk in Ocean City, and while the business has grown tremendously and evolved with the times, some things still remain the same at Dolle's.
"We like to operate under the philosophy that if we wouldn't feed it to our kids, then we wouldn't put it in our stores," explained Anna this week, noting that everything in the store is American or European made, with the vast majority of goods made on-site. Caramels, fudge, salt water taffy, jellies, caramel corn…you name it, it's made on site at the Wicomico Street location.
We were lucky enough to head upstairs to see where the taffy magic happens. Back in 1910, the salt water taffy was cooked in small copper kettles, cooled on marble slabs, and pulled by hand on large hooks. We even spotted Rudolph Dolle's old taffy pulling hook in the taffy making facility. Nowadays, with the wholesale orders for salt water taffy coming in from all over the country and the three stores in Ocean City, machines are needed to help pull and wrap taffy at high speeds – up to 650 pieces per minute! But that doesn't mean they haven't maintained tradition in the machinery, noted Anna, pointing out a piece of machinery her grandfather purchased in 1953 that is still in use. "They still run perfectly, the only thing we've had to do is make the necessary adjustments."
Just around the corner we stumbled upon a massive (and tempting) pile of taffy waiting to be dipped in chocolate. We were curious to find that the taffy was already wrapped, despite the fact that it was about to be dipped. Anna explained that the after being made, the taffy is double wrapped to ensure the shape is perfectly he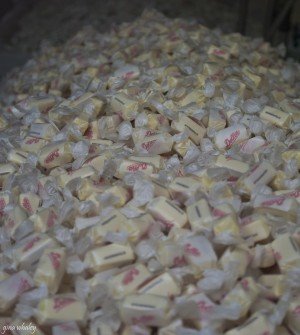 ld, then, each piece is unwrapped, dipped, and re-wrapped before being packaged. We're pretty sure this gives a whole new meaning to the saying "made with love."
Next up, the cookers, where the ingredients are metered and cooked with roughly 300 pounds of candy produced every 8 minutes. Flavorings for the various taffies are high-grade, all-natural oils, said Anna, adding "we use all-natural flavorings whenever possible." Once the taffy is formed, flavored and wrapped, the taffy makes its way along the conveyor belt to be bagged in shrink wrap and eventually boxed.
Taffy isn't the only goodie being made on-site, fudge and caramel are made from scratch in the factory as well, as is any of the fillings inside the chocolates, such as the jellies. Something else you might not have noticed before as you were scarfing down your Dolle's chocolates is that each chocolate is hand-signed on top by Anna's father.
While they have adhered to tradition in many aspects, Anna and Andrew have also seen the company grow immensely in their lifetimes. "We've grown tremendously over the past 14 years, "she said. The most recent addition to the Dolle's dynasty is their 67th Street store, which opened on July 5th of last year. "It has a totally different look and feel," said Anna, noting the differences between a Boardwalk storefront and mid-town location.
While Anna and Andrew didn't grow up knowing for sure that they would one day take the reigns, the store has always played a major role in their lives. "Being here all the time growing up, it's as if this place is another family member, and it's really nice having that." The store itself hasn't been the only addition to their family over the years, Anna called attention to the loyal employee base that have become like family members as well. "We have lots and lots of people that have been here a long time and care for this business just as much as we do."
As Easter Weekend approaches with Springfest not far behind, the crew at Dolle's is gearing up for what they hope will be another stellar summer in Ocean City. And after spending an hour in the midst of candies, fudge and caramels, we are eager to load up our own Easter baskets.