A few weeks ago, I was asked if I would like to attend the Mid-Atlantic Food and Wine Festival's, Winemakers Dinner at Oberod Estate in Centreville, Delaware. Ironically, weeks before I was desperately trying to find tickets to go to one of the 46 events the food and festival would be holding. Events included everything from farm dinners, beer tastings, pop-up dinners, black tie events, and even the Winemakers Dinner in the beautiful Oberod Estate. Little did I know that I would get an invite over Twitter to attend this amazing Winemakers dinner with over 10 traveling chefs and award winning winemakers.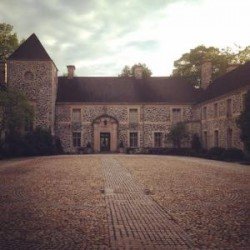 This five course meal serving 27 guests included everything from Crispy Fried Sweetbreads to Butter Poached Maine Lobster to Duck Confit and Gluten-Free Flourless Chocolate cake. Chefs and Sous Chef traveled from all over to prepare and serve our incredible dishes. And there's no way you could possibly forget the wine pairings to go along with these divine morsels! Three boutique winemakers from all over the world including the Champagne and Organic Wines from South Africa.
We traveled through the winding hills in the heart of Delaware's Chateau Country, once we reached the top of the hill, there stood the breathtaking Oberod Estate. I was so excited I could barely wait to get out of the car! This gorgeous home was surrounded with even more stunning views of the countryside. The gardens were covered in lush, green grass, a beautiful sunset cascading behind the hillside, along with a warm spring night, made this dinner completely unforgettable!
Upon entering the chateau we were greeted with an incredible glass of Ruinart Champagne and were sent on our way to explore the library, sitting room, and outside veranda. Plated hor'dorves of Duck Confit with Fig jam, Potato Pancake with Smoked Salmon, Lemon Creme Fraiche and Caviar, Citrus Dusted Seared Scallop with Carrot Ginger Puree and Avacado, and Parmesan Crisp with Oven-dried Tomato and Basil were served as we enjoyed conversations with South African Winemakers and intrigued art lovers.
We proceeded into the dinning room, where we anxiously awaited each course prepared by various chefs and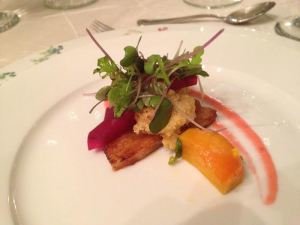 paired with palette-pleasing wines. Our first course of Crispy Fried Sweetbreads, Roast Pork Belly and Rhubarb Butter was served with 2004 Paillard Champagne Vintage Bouzy Grand Cru and 2010 Le Cadeau Cote Est Pinot Noir. The winemaker's family has been making wine for over 200 years, allowing this champagne to be barreled for 8 years before serving!
Our second course prepared by Chef John Suley was Artichoke Veloute, Prosciutto, Chanterelle Mushrooms, Yogurt, Sourdough Croutons, and Lemon Thyme. Honestly I think this the best soup I've ever had in my entire life! I wanted 4 more bowls full, unfortunately I couldn't exactly lick the bowl with 9 other people sitting at the table. 😉 The Veloute was served with a 2012 Reyneke Sauvignon Blanc and 2011 Tenuta II Corno Chianti Colli Fiorentini Foss'A Spina DOCG. The Sauvignon Blanc is a South African Organic wine. South Africa has the oldest soils in the universe and the vines are obviously deeply in love with the soil! The grapes and vines of this vineyard face the ocean and rest in french barrels for 15 months.
Chef Tom Hannum prepared the melt in your mouth Butter Poached Maine Lobster with a Truffle Butter Sauce. Completely knocked your socks off! I actually looked over at my brother sitting two seats away and watched his eyes light up like silver dollars and I could of sworn I saw drool streaming from his bottom lip! A 2012 Azur Rose was paired for this third dish.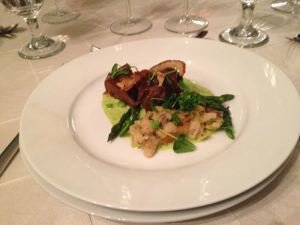 Braised Pork Cheeks Stuffed with Apple on Haricot Beans Finished with Pea and Truffle Emulsion and Port Jus made it's way to the table next. A 2010 Hand of God Fingerprint Series Sobremesa Vineyards and a 2008 Somaine Kikones Limino were served with this course.
Always, saving the best for last was the killer dessert by Chef Michele Mitchell. Gluten-Free Flourless Chocolate Cake, Rhubarb Ice Cream and Cocoa Nib Crunch. The dessert wine from Napa Valley only produces 100 bottles and we were lucky enough to be able to enjoy and savor it! This 2010 Rocca Family Vineyard Tesorina was incredible! Also paired with this dish was the 2010 Azur Propriety Red. (Picture of dessert is the first picture in this post!)
With full bellies, sleepy smiles, and ringing ears from a wonderful night of conversation and new friends, it is definitely an experience I will never forget. Undoubtedly some of the best food that has ever passed my lips and easily one of the most gorgeous homes I've ever set foot in, with the most incredible view of Delaware's Chaetau country. I was truly honored to be given the opportunity to attend, and be apart of this fabulous Mid-Atlantic Food and Wine Festival, filled with so much talent, inspiring, and creative chefs and wine makers. Think I may need a little trip to South Africa for some more Organic wine from Johan! 🙂