"When people ask me when we opened, I say October, we're opening in October," laughed Bob Ciprietti, owner of Touch of Italy, as he walks to our table carrying what is easily one of the most delicious pizzas we've tasted lately. "We never do things the ordinary way, it's only fitting that we opened a restaurant right in the middle of summer." Despite attempting the insurmountable and opening in the height of summer in Ocean City, the latest addition to the burgeoning Touch of Italy empire has taken the challenge in stride, tackling the summer season head on and opening to rave reviews from tourists and locals alike. We were lucky enough to sneak in for lunch and a sit-down with both the owner and chef this week, getting a behind the scenes look at Ocean City's version of 'little Italy.'
After taking in the awe of the refurbished space in the ground floor of the Holiday Inn on 67th Street, we were immediately impressed with Chef Ciro Verdi, who is easily the most modest chef we've ever met. "I learned something a long time ago, if I make something and I look at it and I know I wouldn't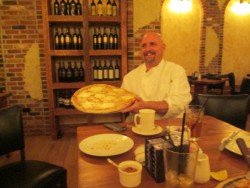 eat it, we do it over," said Verdi. Verdi spent his summers as a young boy in Italy helping out at his relatives' Italian restaurants. "I was learning the profession before I even knew it," remembers Verdi. His resume is impressive to say the least – owning restaurants of his own in New York City and appearing on the Food Network several times, including with  Bobby Flay. "Ciro has been the mentor of Touch of Italy since we opened," said owner Bob Ciprietti. Ciprietti also has deep roots in Italian cuisine, hailing from the famed Arthur Avenue in the Bronx. Incidentally, many of the products found in and used at Touch of Italy come from Arthur Avenue, a.k.a. the "real little Italy of New York".
One can't help but notice how quickly Touch of Italy's success has come, with 5 restaurants opening in just 5 short years. Touch of Italy's recent endeavor of opening in Ocean City has proved to be the right move thus far.  "People are waiting in line, but the difference is they are happily waiting in line, at each location" said the Rehoboth Foodie, who we were also lucky enough to have dining alongside us. The proof is in the numbers as well with an average of 270 covers a night in the OC location.
Touch of Italy Ocean City is catering to the banquets and conferences that go on at the 67th Street Holiday Inn as well as the Pool Bar menu and room service. They are also open for lunch and dinner, with a full bar, plenty of ta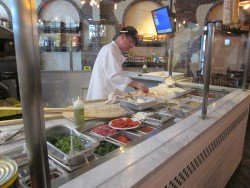 bles and space, and the Italian-style deli and grocery area in the front (as cheese lovers, this is easily our favorite part). Between the hotel traffic and the already well established brand, the restaurant's notoriety has been taking care of business itself. "Word of mouth is the best advertisement, said Verdi. "That's what we rely on and it's worked out pretty well."
We've paid a visit for dinner a few times but we were pleased to discover the lunch options this trip. We suggest heading to the deli located at the front entrance – it's filled with gourmet cheeses, deli meats and fun Italian pastries – and bringing a picnic to the beach for something different to enjoy with your family.
As we were talking with the owners, our attention was quickly diverted when our waitress brought in the Focaccia Robiola Deluxe, one of Ciro Verdi's signature items. This delicious dish is unique in just about every way; the deluxe pizza-meets-grilled cheese is a double crusted pizza, yes on the top and bottom… filled with robiola cheese, arugula, oven roasted tomatoes and prosciutto. We couldn't get enough, particularly after our taste buds caught wind of the drizzling of truffle oil throughout.
While we focused on pizza for this trip to Touch of Italy, there's an entire menu lineup to consider for your own culinary adventure. Traditional pastas, seriously overstuffed sandwiches, seafood and meat dishes, and a host of Italian pastries await you. We'll let you decide on your own favorites but according to the Rehoboth Foodie, the Bolognese sauce is to die for. Enjoy!