Oyster lovers, it appears to be your time to shine! We've got our eyes on two upcoming oyster events on Delmarva, which means raw oysters are definitely in our future. Love 'em or hate 'em, oysters are an Eastern Shore staple, with our local bays offering up delicious local oysters every year. Raw, roasted, baked, Rockefeller, steamed, or mixed in a delicious seafood stew, we'll take them just about any way we can get them! This month, Fager's Island is gearing up for an oyster festival, and let's not forget the highly anticipated 5th Annual Oyster Roast in Snow Hill. That's four chances to test your oyster prowess. But first things first, let's take a brief crash course in oysters, oyster preparation, and local oyster restoration projects.
The old adage claims that oysters should only be eaten in months containing the letter 'r', so September through April, but not May through August. If you're following this line of thinking, than now is the time to dig into some delicious local oysters. The truth is, with modern aquaculture, oysters are now safe to eat year -round. Nonetheless, we'll revel in the chance to enjoy oysters during these cold, winter months when we are missing the fresh crabs of summer. So what to look for? A good oyster arrives artfully shucked with no ragged edges or mangled bodies, no questionable coloring or offensive smells. The perfect oyster lies in its own cool liquid, ready to be slurped in all its briny glory (and yes, our indigenous oysters are briny as opposed to the more buttery flavor of the West Coast variety). Sauces vary, with a typical pairing of hot sauce or cocktail sauce. Mignonette is our personal favorite, but we've been known to slurp our oysters sans sauce too. Can't get on board with raw? No worries, steamed, baked, fried and roasted oysters are equally as flavorful. There's also the beloved Oysters Rockefeller, baked oysters that are prepared in a variety of ways but typically include bacon, breading and sauce.
While we clearly love eating oysters, it's also important to remember that oysters play a crucial role in our local ecosystem.  Oysters are the best filters for the Chesapeake Bay and filter many of the harmful pollutants from the water. A large problem that our waterways encounter is due to an abundance of nitrogen. This comes from human and animal waste, fertilizer, and fossil fuel use. When this chemical seeps into the Bay, it is eaten by phytoplankton, which grow into groups of algae, causing large algal blooms. The algae in these blooms suck up oxygen in the water for their own use and also block the sun so that other aquatic plants cannot photosynthesize and produce oxygen. The shortage of this essential, life-giving element creates devastation throughout the Bay and mass deaths of many species of aquatic life. Oysters serve as a viable solution to the problem, filtering the nitrogen while consuming the phytoplankton responsible for the algae blooms.
Unfortunately, as a result of overfishing, habitat loss, and pollution, we have lost many of our oysters, so much so that scientists have said that today's population of oysters is only 2% of its original size. However, restoration projects have seen improvements and hopeful signs for a return to large oyster populations. Many restoration operations are occurring in our area because oysters only grow in mixed salinity waterways, such as the Choptank River, where fresh water flows to the Atlantic while salt water from the sea is also present. In fact the largest oyster restoration project on the East Coast is taking place in Talbot County's Harris Creek. In the project centers located on these waterways, oysters are bred, raised to adulthood, and then returned to the environment.
Ok, so now that we've covered the spectrum from oyster consumption to oyster restoration, let's look at those fabulous oyster events we teased you with at the beginning:
Fager's Island: The Oyster Garden
When: Saturday, February 14 from noon until 4pm
Cost: $39 in advance, $44 at the door
What: Representatives from local companies that are cultivating and raising oysters will be on hand to shuck, serve, and educate. The Oyster Restoration Project will also be available to answer questions and discuss local oyster initiatives. Both Flying Dog and Evolution will be featuring craft brews made with oysters. Also included are ribs, chicken, and live entertainment courtesy of Pressing Strings.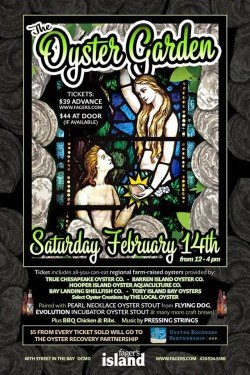 5th Annual Snow Hill Oyster Roast
When: Sunday, February 22 from 1pm until 5pm at the Old Firehouse on Green Street
Cost: $30 before February 1st, $40 after (warning, these tickets sell out fast!)
What: The Snow Hill Area Chamber of Commerce presents their annual oyster roast, an all-you-can-eat event featuring oyster stew, oysters casino, oysters Rockefeller, Malibu oysters, fried oysters and roasted oysters. Tickets are available at www.snowhillchamber.com.