Ocean City runs fairly traditional when it comes to food – fries, burgers, cheesesteaks and seafood are the norm, so it can be difficult to find a vegan offering or a gluten-free sandwich. While the vegetarian and vegan food scene has improved somewhat over the past few years, it can be difficult to find a spot where the whole family, lets say a family composed of a vegetarian, a vegan, a hardcore carnivore, and a little one with a gluten or peanut allergy, can go out to eat and fulfill all of their dining needs. Longtime resident Nancy Bolt sought to change all of that, opening The Greenhouse Deli earlier this year. ShoreBread stopped in the downtown eatery this week to talk food with Bolt, including everything from careful food preparation to vegan living.
The Greenhouse opened April 27 just in time to give welcome to the busy summer season. This is the first restaurant venture for Bolt, who was working as a general contractor before deciding to make a complete career transition. "I wanted to do something that made me happy. I just wanted a change of pace," said Bolt. While she had little experience in the restaurant business, Bolt has always been active in the kitchen, experimenting with recipes and whipping up new creations. Diving into the food world seemed like a natural next step. While Bolt chose to follow her own path, she was and (still isn't) under any delusions of an easier workload in the restaurant world. "It's hard of course," said Bolt, "I'm here 15 hours a day, 7 days a week." But that doesn't mean Bolt is packing up her kitchen knives anytime soon. In fact, she plans on expanding and bringing fresh alternatives to Ocean City as long as she can.
So why healthy food in a town laden with deep fryers? "I wanted to give options. If you're a vegetarian or a vegan there are not a lot of options around town. Vegetarian isn't just a salad or pasta anymore," said Bolt. While there are plenty of vegan and vegetarian options, Bolt was quick to point out that The Greenhouse is not a vegetarian, or vegan, or gluten-free, or organic restaurant, rather it's all of the above and then some. "We have everything… meat, fake meat, non-meat, gluten-free…we have it all" said Bolt, adding, "we are not an organic restaurant. If I can buy organic, I do. Everything is fresh, but I cannot swear it's organic." The same goes for local ingredients, Bolt strives to buy locally as often as she can, but it's not always feasible.
While it may seem odd to hardcore vegans to see an Italian cold cut on the menu, it's not because Bolt is trying to alienate any specific type of eater, rather, she is trying to be as inclusive as possible. "Lunch was the hardest meal for us to find somewhere to eat," Bolt said, explaining that when trying to find a place to eat with her husband and daughter, it was always difficult to find a spot that offered something for each of their dietary needs and tastes. "That's what prompted me to do something like this."
At The Greenhouse, expect to find a little bit of everything on the menu. Roast beef sandwiches, gluten-free bread, vegan desserts, raw goods, fresh juices, homemade salads…it's mixed bag of options, but a fresh mixed bag.  Bolt explained that families consistently come through the doors with one family member with a dietary restriction, expecting to only find options for the vegan or gluten-free eater in the group. Everyone is always surprised (and thrilled) to find that there is something for everyone on the menu.  The point isn't to promote a vegetarian lifestyle or a gluten-free lifestyle said Bolt, rather the point is to offer fresh, homemade food that everyone can enjoy.
The menu has a line-up of breakfast, lunch and dinner options. Fresh juices are made to order with ingredients of your choice. Or pick one of The Greenhouse favorites like the Green Juice, made with spinach, carrots, celery, cucumber, ginger, orange and apple, or the Tomato Juice, composed of tomatoes, carrots, celery, cucumber, radish, cilantro and apple. Beet, carrot and orange juice is also a popular item. Smoothies are available as well and made to order with three ingredients of your choice. Ingredients include berries, bananas, spinach, apple, mango, grapefruit, orange, pineapple, peanut butter or chocolate. "People can come in and create their own smoothies," said Bolt, who will eventually be adding a list of people's smoothie creations to the wall.
For breakfast options, think bagel sandwiches, yogurt and granola with fresh fruit, or oatmeal with various toppings. Lunches include a variety of sandwiches, soups, salads, sides, and more. Specials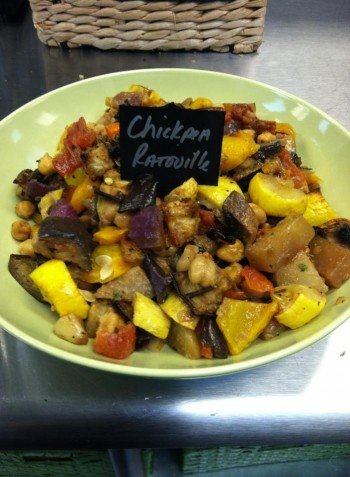 range daily, so call ahead or check The Greenhouse Facebook page for daily offerings. While The Greenhouse will be closing at 6 until the busy summer months return, feel free to stop in The Greenhouse to grab some fresh to-go options to enjoy later for dinner.
Fresh is the name of the game at The Greenhouse, with every dish made in-house. "We don't do anything in advance. Everything is cooked fresh, daily. It's home cooked food, no matter what you get." As a result, Bolt is able to accommodate allergies as well, allowing for custom-made orders. It also helps that Bolt knows what goes into each and every dish. If a customer has a question about ingredients, she can tell you what's in a particular dish and whether or not it will affect a particular allergy. "I know what's in each dish, so if you have an allergy, I'm going to know exactly what's in it," she said.
As for the most popular dishes, "on the vegan sides, it's definitely the black bean burger. Everyone loves it. On the meat end, the turkey, bacon and avocado sandwich." As for Bolt's personal preference, she is partial to juices. "I'm a juicer," said Bolt. "I love the juices because they are fresh." Unlike many juice bars, Bolt uses whole, fresh ingredients, rather than sugary bases or mixes. Bolt is also a huge fan of the tofu scramble. "Breakfast is the hardest thing for a vegan to eat," she said.
Bolt is admittedly obsessive over keeping pots, pans, dishes and cooking utensils separated based on the foods being prepared. There are designated pots and pans for cooking with vegetarian, vegan or meat items. Meat is stored at the complete opposite end of the counter and is never anywhere near vegan or vegetarian ingredients or dishes. Bolt even goes as for as using an entirely different knife for cutting a vegetarian sandwich and a meat-based sandwich in half. Everything has a specification, regardless of whether it has gone through the wash or not – a pan used for vegan cooking will always be used for vegan cooking. As someone with a severe food allergy, Bolt takes food preparation very seriously. Bolt has a life-threatening allergy to the consumption of meat, so she is sympathetic to customers that come to her with allergy specifications. Her employees follow suit, "I tell them to really think about the steps you're taking."
Bolt can be found behind the counter every day, whipping up smoothies, juices, salads and more. But don't ask her to write down a recipe for you…she doesn't have any. "I don't follow recipes, I don't write anything down. I just wing it." Rather than follow recipes, Bolt references cookbooks in order to get ideas, or to take traditional recipes and turn them on their heads for a fresh, new taste. "I take inspiration from other dishes and then make changes based on what I think will taste good." The result? Delicious, fresh food that kept the place jam-packed all summer long. In fact, Bolt has decided to stay open all winter with the exception of a few weeks in February to revamp. While most businesses will shutter during the cold months, Bolt will keep dishing out deliciously inventive food. Bolt plans on staying open 7 days a week, from 9am to 6pm each day.
After a successful first summer, Bolt anticipates an even busier summer in 2014, noting the number of customers that voiced promises that they would be back, or that wished they had found her earlier on in their stay in Ocean City. As for the future, with a solid breakfast, lunch and dinner crowd, and a busy line-up of catering services under her belt, Bolt hopes to expand into a full-service restaurant one day. For now, we look forward to having a fresh lunch alternative to keep us warm through the fall and winter.